I'm making some changes to my bedroom to be more in keeping with my current decorating style. So today I'm sharing the ideas I have for my bedroom refresh. I also had a big aha moment that immediately cemented the vision I had of the room and all the things I needed to do to get the look in my head. 
Bedroom Refresh Ideas
Quick Links to Information in this Post
It started with a headboard.
I've been wanting to add decor to the space above my bed since I don't have a headboard.  My room is small and the bed sits against one wall with windows. So I've gone back and forth in my mind (for yearsssss actually) about adding a headboard, particularly an upholstered one, since it can, at times, be visually overpowering in a small space. Buuut, I love upholstered headboards.
Part of me wanted some symmetry and I wasn't sure what I wanted to add to that particular wall to balance whatever went above the bed given that the bed won't be centred (you'll see pics soon of the space to get a clearer idea). I had tons of ideas for no headboard options, some of which you would've seen from my post on no headboard ideas. But I still wasn't sure.
 Until recently.
 I read in bed a lot, and while sitting there one night, with my usual pillows propped up behind me, tumbling down every time I got up, I was reminded of the need to always start with function and feeling when decorating a space and move from there.
 Because I usually read in bed, over the years, I've had to repaint the wall a few times because I'm constantly leaning against it in one spot. And because the wall isn't a cozy leaning spot (obvs), I'd always be stacking pillows to get the right combination of comfort and cozy. Not cool.
I'd been seeing upholstered headboards (with the vertical planks) more and more on Pinterest and my instagram feed. And that night, I realised…that's it. I need to get a headboard asap. I immediately knew what I needed to do with the rest of the space.
Bedroom Refresh Ideas – Plan and Moodboard
Here's how it was for the last few years… (I couldn't find my photos of the entire wall with this setup for some reason)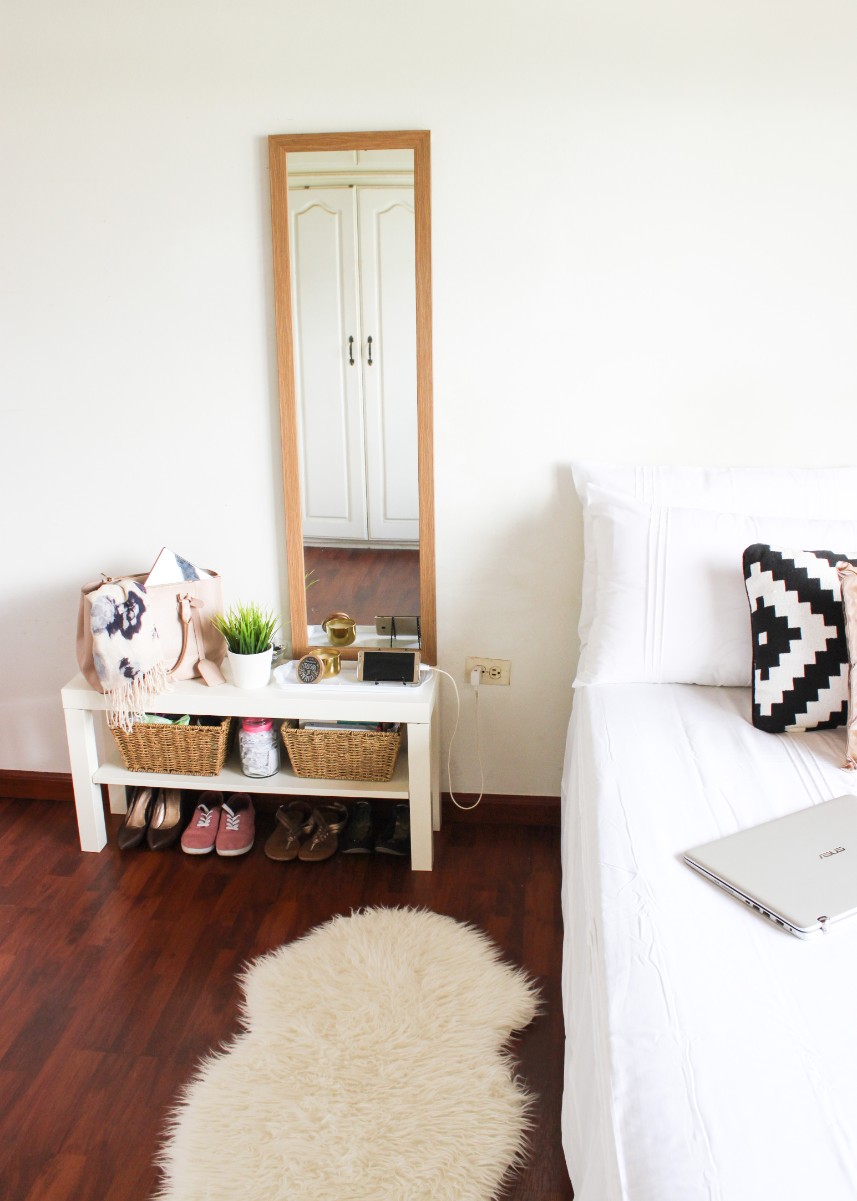 Related Post: 6 Ways to Style the Ikea TV Benck Like a Boss

Here's the current setup after I got my epiphany and swapped out the bench for the dresser.
(Sidenote: Sorry about the poor quality phone pic. My camera isn't working so I couldn't capture the full wall as I planned and I took the photo on a super gloomy day)
And here's the moodboard for the Bedroom Refresh

**The sources for the images pictured are all linked below.
Disclosure: This post contains some affiliate links which means that, at no extra cost to you, I may get a small commission if you make a purchase using a product link. Read my full disclosure policy here.
DIY Upholstered Headboard:

You guys I am sooooo excited about finally making my own headboard!! A friend of mine recently reminded me that I started talking about making my own headboard about 7 years ago. Sheesh!! I'll definitely be detailing this process over on Instagram stories so if you aren't following me over there yet… whaddaya waiting on. Lol
I've gotten most of the materials already.  I couldn't get the exact color fabric I wanted but got lucky with this light gray velvet with the tiniest hint of lilac in it. It was an end of roll so I got 6 yards for real cheap. These are my inspiration photos below.
via West Elm
Hanging Macrame Planter and Faux Ivy Plant: 
I'm loving the macrame and hanging planter trend that's everywhere right now. My mom made a macrame planter 40 years ago!!!! Yes, you're reading that correctly and I am so excited to use it in my room. There were 2 and my siblings and I would play with them as kids and one was destroyed disappeared mysteriously. 
I love how hanging plants look above the bed but I'm definitely not into sleeping with real plants overhead, knowing that earthworms and other creatures might be chilling over my head, so faux plant it is. This faux Ivy plant on Amazon got some great reviews and I've seen it used by a couple of YouTubers I follow so I can't wait till it arrives. This is what I'm going for…
via Mr. Kate
(this post also has the DIY guitar holder) 
via Pinterest
Faux Fur Ikea Stool Hack:
I've been wanting to make faux fur stool with one of my Ikea Marius stools for years as well. l I've seen quite a few of these hacks around. I plan to use an already stuffed throw pillow like Catherine did below as that's easier. I'm not sure whether I want to paint the stool gold or leave it white but I am leaning towards gold. I haven't decided whether to use a pink pillow or grey one. What do you think?

A round mirror:
This was one of the key things that had me stuck in a rut regarding redecorating my room. I kept trying to fit in my previous long rectangular mirror in the new design in my head but it just wasn't working. So tip, if something really isn't working for you in a space anymore, don't force it. Sounds obvious but I think that's what I kept trying to do with my mirror. 
The round mirror makes much better sense and will look way better in the space. I'm planning to cut a large mirror I already have into a circle and then frame it. This is another DIY project I am excited about, although a bit nervous since I've never cut a mirror before. I like the example below but I'm still working out what I'll use to create the border/frame.

Ikea RAST Dresser Hack:
I have an Ikea RAST dresser that I painted white some time ago for my mom's room. As mentioned, I switched out my Ikea TV bench that I was using as a bedside table for this instead. It definitely needs refinishing so I want to repaint it in white but switch the knobs to fancier metal pulls like this example below. I got this 10-pack of gold metal pull rings.
via Armelle Blog

Light fixture: 
Adding a light fixture is another thing that has been on my to-do list for far too long. I'm still deciding between having a wall-mounted fixture or switching to a pendant light overhead. For now, I'm super interested in styles like these. Although most of them are really vanity lights, I'm planning to make it work as room lighting. I have to see if I can find similar here in Trinidad since that'd be easier.  
via Etsy
So, what do you think about my bedroom refresh ideas? Would you change anything else?
Are you working on your bedroom as well? If you are, be sure to download my FREE bedroom style guide using the form below!! It's packed with actionable tips.