I'm making plans to spruce up my bedroom a bit and one of the main things I want to target is the area above my bed head. I don't have a headboard and have been deliberating (for yyyears really…sigh overthinker much?) whether I should DIY a headboard or use large artwork or other decorative options instead as a headboard alternative.
So today, I'm rounding up some no headboard ideas for your bedroom that you can easily implement.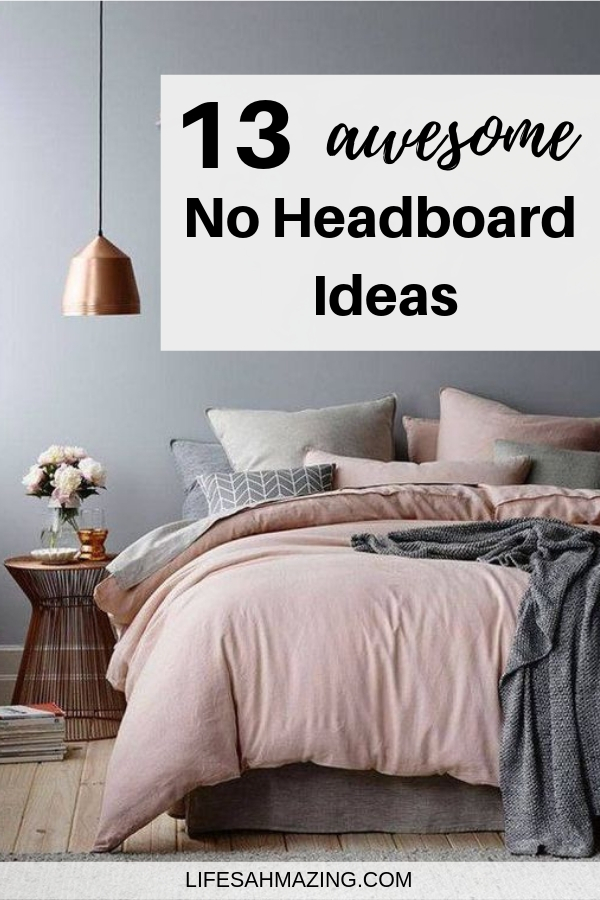 I'm crushing on quite a few of these and have a clearer idea of what I want to use as inspiration for my own space. You can get a peek of my current bedroom setup in this post on how to use the Ikea TV Bench.
So watch this space. Get it? #corny lol
(Disclaimer: This post may contain some affiliate links. See my full disclosure policy here)
13 No Headboard Ideas for Your Bedroom
Nothing behind the bed
This first example shows that depending on how you decorate the rest of the room, having nothing at the head of your bed actually works.
In this photo, the artwork placed above the side table rather than above the centre of the bed provides enough visual interest in the space. The minimalistic look of the room is also amplified.

Here's another angle of the room.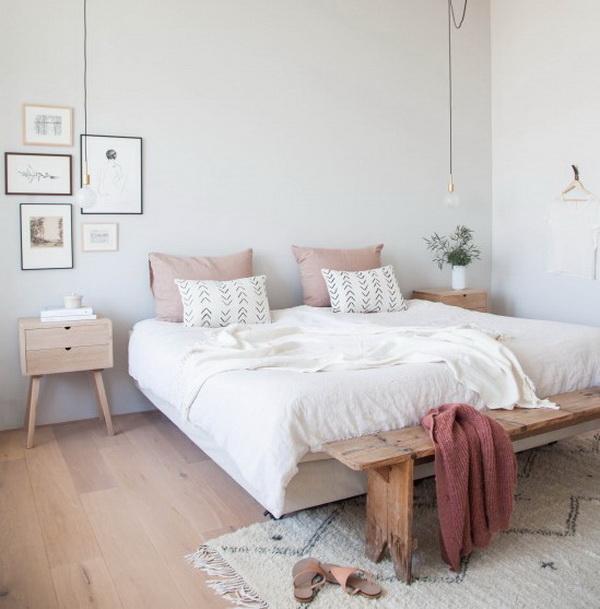 via Pinterest  
Related post: 5 Best Small Bedroom Storage Ideas
2.  Bold No Headboard Statement using Wallpaper
This example shows how a full/sectioned accent wall using wallpaper, stencils or contact paper can easily replace the need for a headboard.
I love the idea of a world map wall behind the bed. I've seen several variations of this room floating around on Pinterest so I'm not sure what the original looked like. Nonetheless, this version is such a perfect statement for someone who loves to travel.  
If you're looking for some affordable wallpaper options, check out these peel and stick wallpapers on Amazon.
3. Painted Accent Wall
A bold statement is made through this black accent wall. I'm not likely to use this in my space but I do like how the stark contrast looks.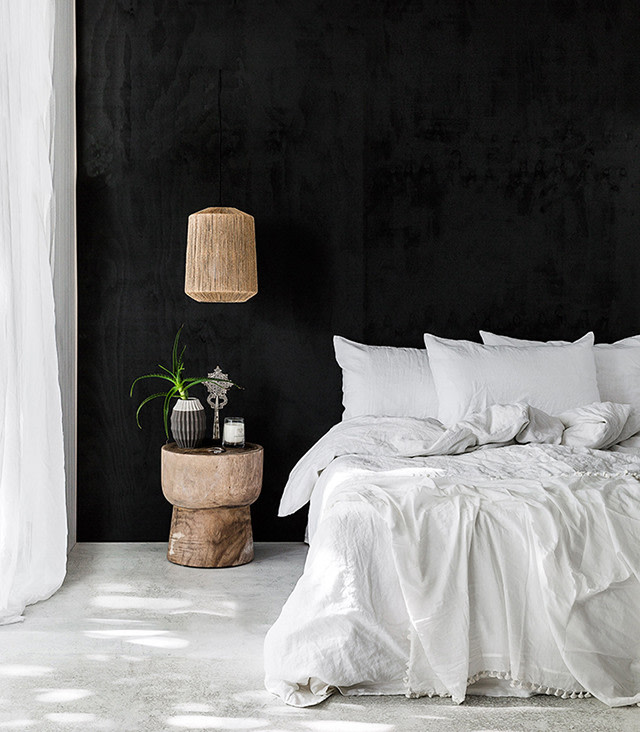 4. Artwork and Wall Decor
Artwork and wall decor centred above the bed head are popular options for headboard alternatives.
This is a variation of the earlier photo with the world map mural.
One large framed piece of art can be used to make a statement…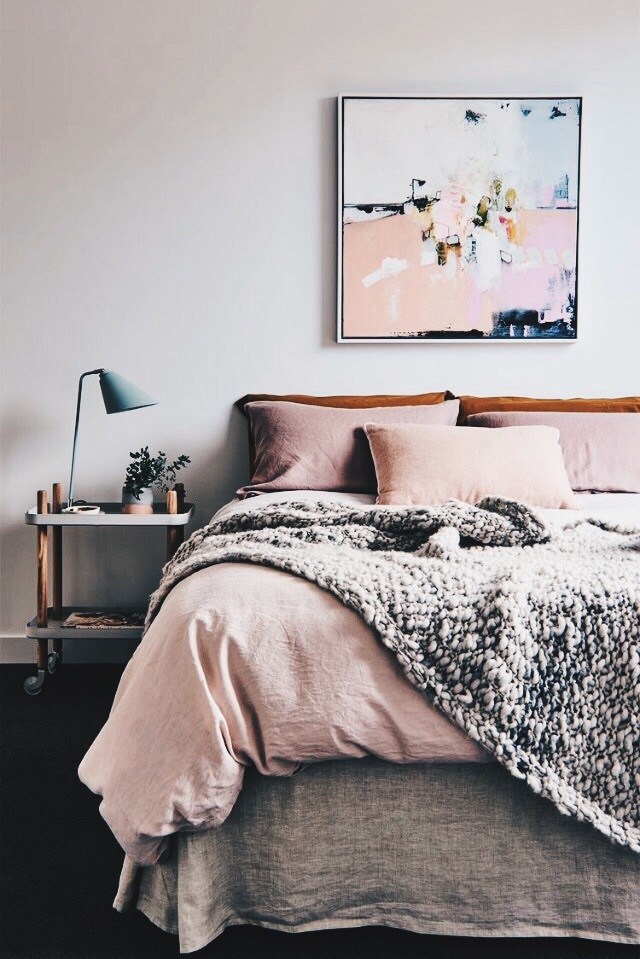 via Centsational Style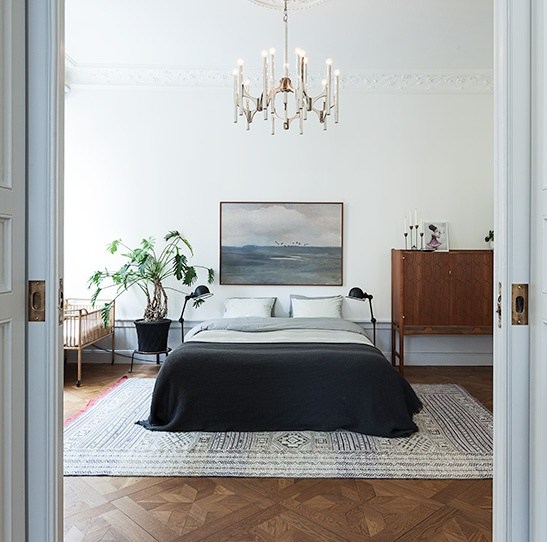 via Coco Lapine Design
In this example from Mr. Kate, the artwork is placed above the side of the bed rather than the head. I loved the entire room makeover actually since has the popular "hygge" vibe.
Mr. Kate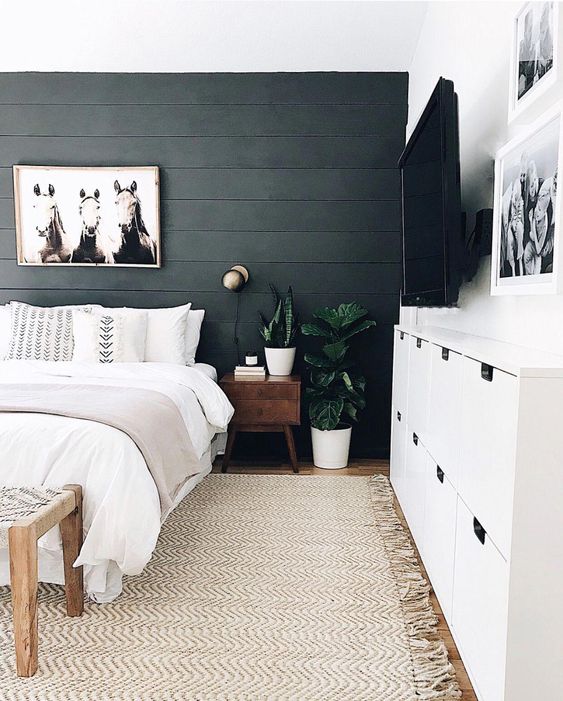 via Googodecor
Or two prints…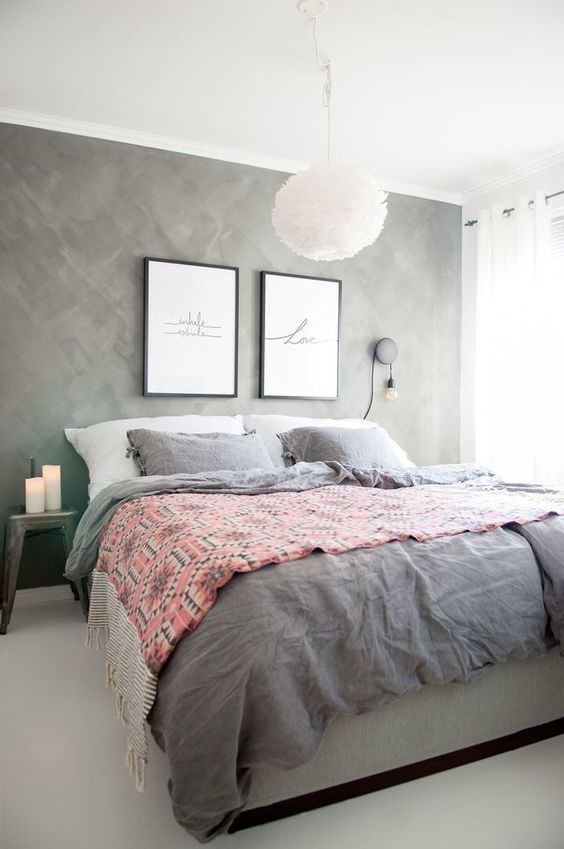 Or an entire gallery wall!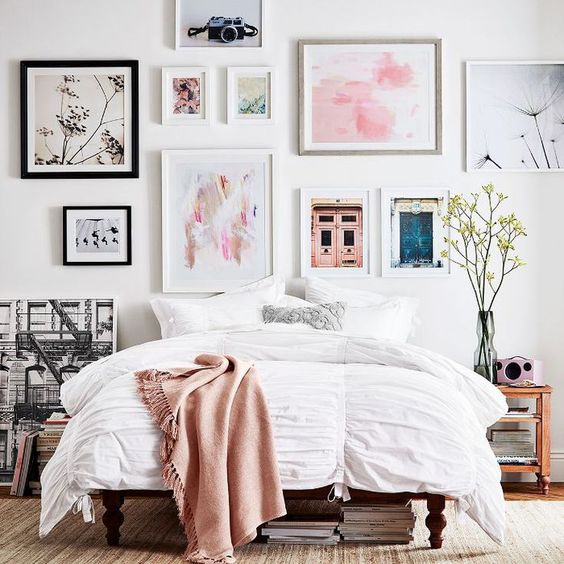 Btw, if you're looking for affordable artwork but not into DIYing, Society 6 has a huge collection of art prints at some really great price points and IKEA has a small but interesting range of prints as well.
5. Shelf above Bed
I'm not fully comfortable with the idea of a shelf above my head (or the picture frames), particularly since I live in an earthquake-prone country, but I do like how they look. Plus, they allow for additional storage in small spaces.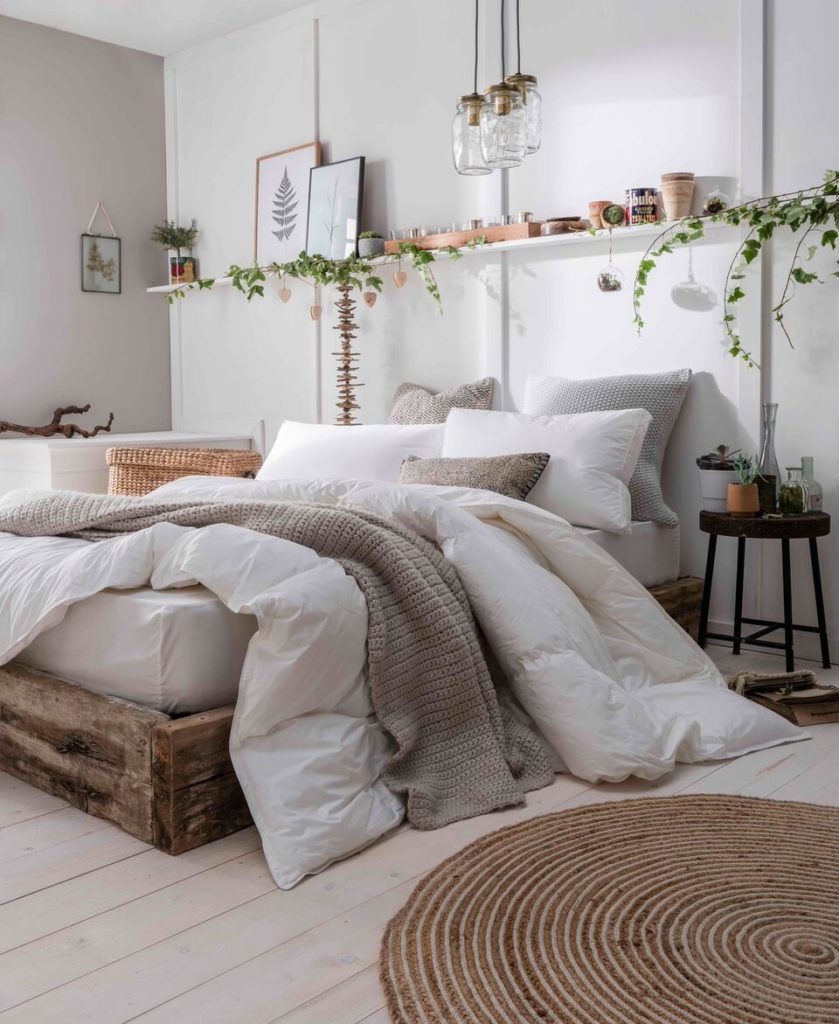 The Interior Editor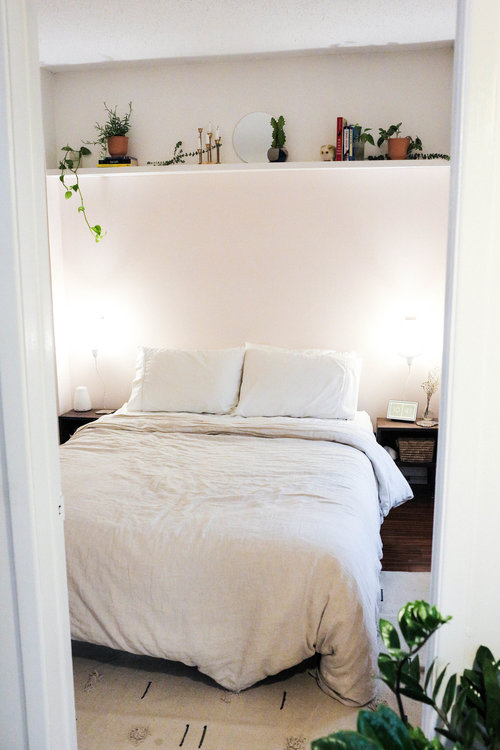 So many great ideas, don't you think?
Looking for even more bedroom ideas? Check out my Bedroom Pinterest board for some inspiration.
Now tell me, what's your take on the no headboard vs headboard scenario? Which of these no headboard ideas is your favourite look?
Feel free to share on Pinterest!