In this post, I've rounded up some great ways to use contact paper in different parts of your home.
(This post may contain some affiliate links. See full disclosure here.)
27 Awesome Uses for Contact Paper Around Your Home
I've separated the uses by room in the home as follows so you can get your creative juices really flowing:
Kitchen and Dining Area
Bedroom
Bathroom
Home Office
Living Room/General
By the way, you'll see marble contact paper featuring a lot in these photos.
There's just something about marble that takes home decor up so many notches.
I've linked a few favourites at the end of the post.
So be sure to scroll to the end.
Okay, let's get started!
Ways to Use Contact Paper in Your Kitchen and Dining Area
1. Update an old countertop

2. Add some flair to the toe-kick
This would be great on the bottom of a closet as well.

3. Line the Back of kitchen cabinet

4. Create a frosted privacy screen
I actually used this exact pattern and tutorial years ago when I rented an apartment and you could see straight through my kitchen window.
It was the perfect solution and looked awesome but it was reeeeeeeally time-consuming.

5. Make a statement on your dining table

7. Create some custom coasters
These would make great gifts as well.

8. Make Marble and Gold Placemats
Amp up your table decor with these beauties.
9. Make your wire shelves more functional

Jen combined foam core board and contact paper to make the shelves in her small pantry more useful (and pretty)!
Ways to Use Contact Paper in Your Bedroom
10. Add some bling to a plain dresser

11. Or make a graphic pattern on the drawer fronts

12. Line the back of a closet

13. Line the bottom of a drawer

This is a common use for contact paper but I like the idea of using different patterns for each drawer.
Ways to Use Contact Paper in Your Bathroom
14. Cover up those bathroom counters

15. Transform a boring bathroom floor

You need to see the before pic of this bathroom. Such a major difference!
Ways to Use Contact Paper in Your Home Office
16. Update your desk to match your style.

You can see my full desk makeover tutorial here

17. Create glam storage out of plain storage or shoeboxes

18. Line a bookcase

19. Update a Clock background

20. Customize a basic Magazine holder (or cereal box)

Ways to Use Contact Paper in Your Living Room and Entryway
21. Recover a Lamp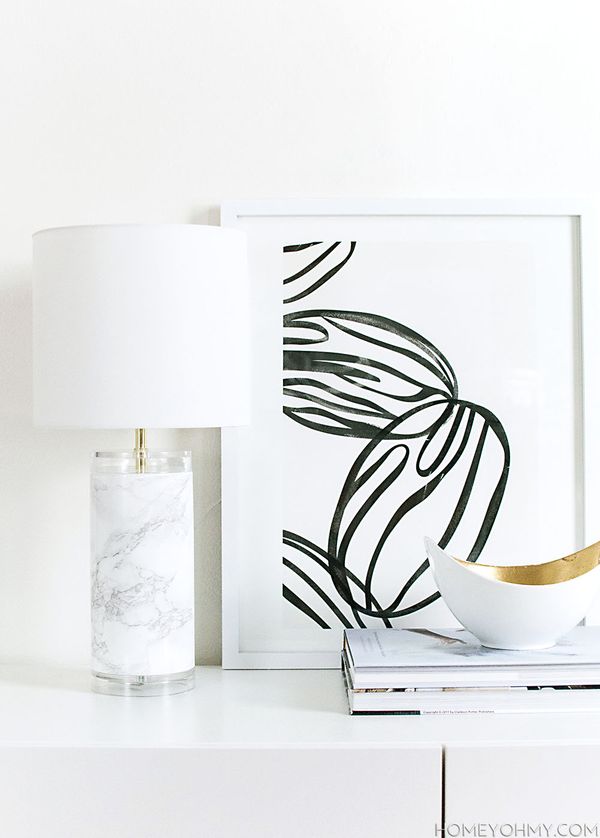 22. Ditch your glass coffee table for a marble one
23. Transform your Ikea Side Table into Chic Decor

24. Create striking wall art

25. Or create an entire accent wall

26. Style your stair risers

27. Create a wow entryway floor
Well, that's it for now. I know there are lots more ideas – let me know in the comments if you think of any other uses!