Don't you love a good Ikea hack or multi-use product? There are so many items in Ikea that give you a great return on your usually small investment.
One of the products I've had for several years is the Ikea LACK TV bench which is quite versatile, just like its more well-known cousin the LACK side table.
I was on the lookout for a cheap bench a few years ago that I could add to my bedroom for additional storage. I have always loved how a bench at the end of a bed looked and wanted a similar look.



In my dream home, I plan to have one of those plush velvet benches with acrylic legs in my master bedroom (you know the ones that make every room on Houzz or Pinterest look so luxe?). But until I get "velvet and acrylic" money ;), I'll definitely have to make do with a budget option that still makes my heart flutter with excitement.
While walking through an Ikea, I came across this TV bench that immediately got my creative juices flowing.
Ikea Lack TV Bench


Quick Links to Information in this Post
I instantly knew it would work for what I had in mind. I was living in an apartment and didn't have any heavy tools (or any desire) to DIY one from scratch. So when I saw the then 8GBP price tag (or US$14.99), there was no way the TV bench was remaining in store.
Since initially purchasing the stand, I've used it in different ways, apart from a bed bench. Due to its slim size (it measures 35 ⅜ x 10 ¼ x 17 ¾"), the bench takes up limited space and can, therefore, be positioned in so many places around the home.
In this post, I've limited most of the uses to the bedroom but I hope they get you thinking about where the bench could be used in your home as well. So, here they are!
Bedside table
The current way I use this stand is as a sort of side table and catch all next to my bed. My bedroom measures 10 x 10 ft and because of its current setup with only one full wall, I have more space when one side of the bed is up against the wall. That leaves room for one bedside table of sorts. It's further from the bed than normal because my bed frame has drawers. So I leave enough room to pull it out.
At present, I use it to store daily-use cosmetics in one basket and books I'm currently reading or want to read, which fill another basket.
Related post: 13 No Headboard Ideas for your Bedroom
It's also home to my full-length mirror since it's the best position given how the light enters the room. I haven't mounted the mirror since I'm always switching things up (really meaning I'd probably want to move it to a new position the moment I secure it lol). I used to just lean it against the wall but recently I added blu tack to hold it in place.
In front of the mirror, I have a small tray that holds my phone and a decorative candle. It's also a drop zone for jewelry or any random item I may reach for before I go to bed and during the night.
Next to the mirror, I keep my handbag and a small bowl with my keys and sometimes a decorative (faux) plant. I also keep my gratitude jar here so it's within easy reach every night when I'm reflecting on things I am grateful for that day.
Lastly, I store everyday footwear at the bottom.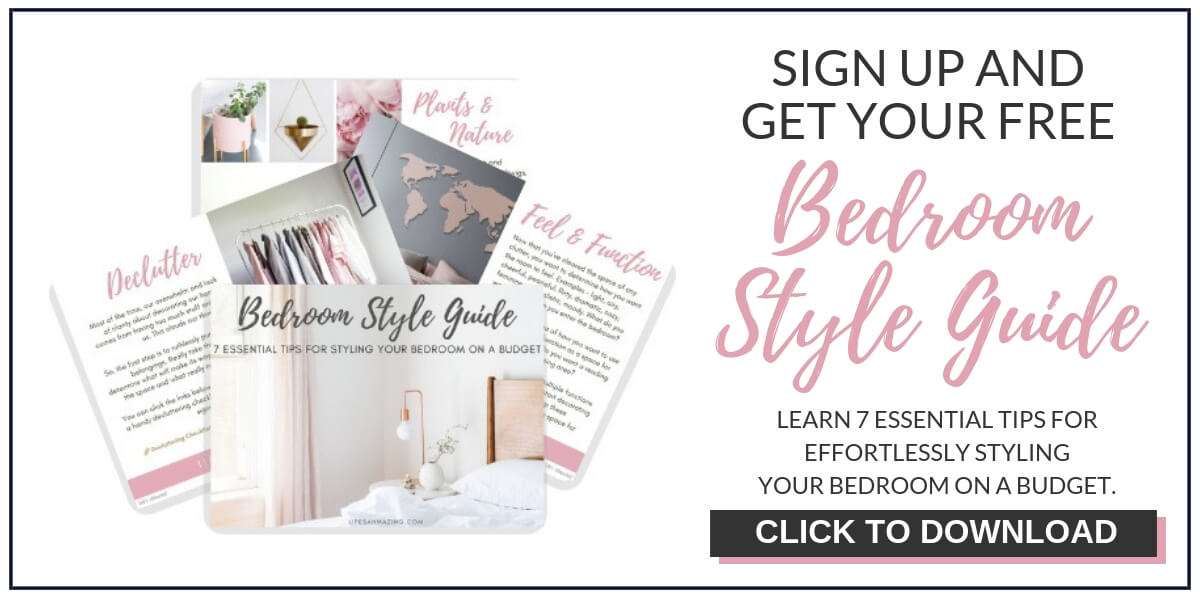 Bedroom bench
Bedroom benches are so useful for additional storage and they don't only add value and glam to large bedrooms. They can definitely work in smaller rooms, like mine.
At the end of the bed, it can be used to store everyday shoes and house slippers for ease of access. Add some storage baskets to keep things like socks, hand and foot creams, as well as a few other body care items and you have a nice storage section right within reach.
On top, you can cosy it up with a fluffy rug or throw blanket. (I'm planning to make a no-sew upholstered cushion for mine one day so I'll be sure to update the post when it's done).
Oh, you may be wondering: Can you sit on the lack TV bench?
I constantly sat on mine when I used it at the end of my bed!
Minimalist Open Closet Storage

The bench could also be paired with the Ikea MULIG Clothes rack for a perfect and budget-friendly minimalist open closet. I love that there's room for storage boxes or folded clothes and pretty much everything you may need for a small, pared down closet system. Both items are also quite lightweight so they don't add visual clutter to the space.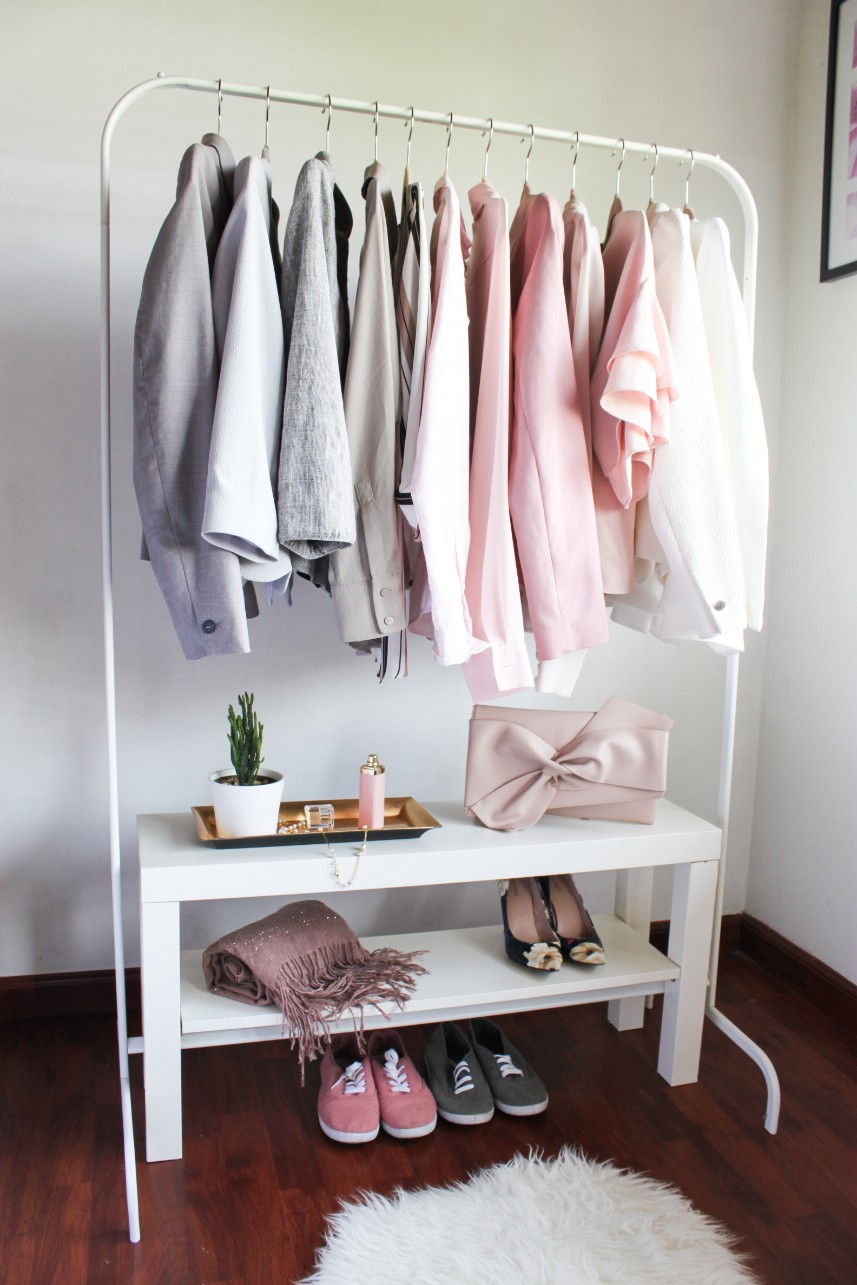 This is personally my favourite and if I had space right now, I would use it like this in a heartbeat!
Related post: 10 Steps to Stress-free Decluttering
Shoe storage/display

If you're a shoe lover with a small space and like to look at pretty shoes (guilty), the stand could also be used as a shoe rack for a selection of your prettiest shoes or shoes that you wear regularly.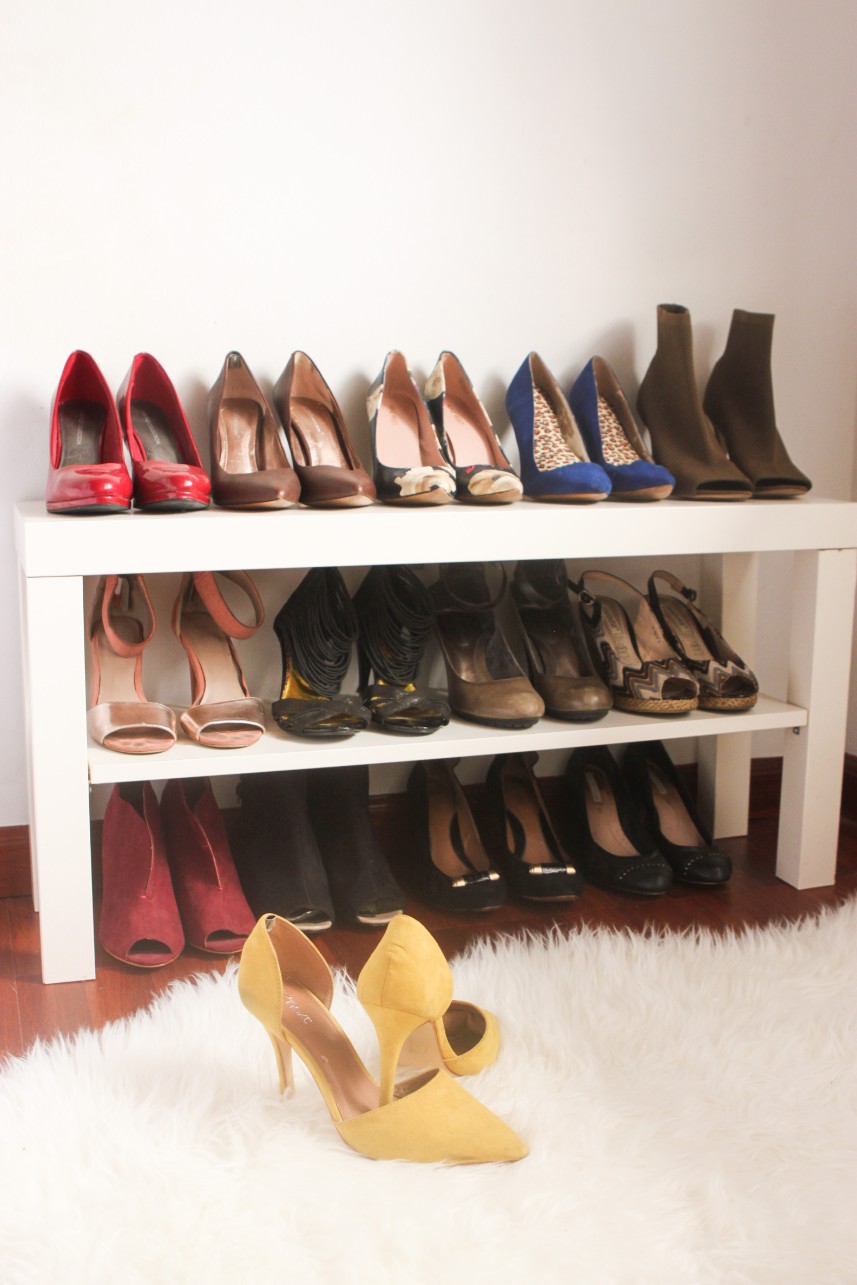 As you can see in the photo above, it can hold about 14 pairs of shoes comfortably. Or about 10 if you want to reserve a space to sit while putting on your shoes. Bam!
Due to its small size, you can also easily use it inside an average-sized walk-in closet or bedroom nook.
Entryway bench

The Lack TV bench would be perfect for a small entryway.
I created a mockup to show how this could be achieved. You can always add a hook above for hanging items instead of artwork. Or both! It's a blank canvas…or blank bench in this case. 😉
Mini Bookshelf

Last but not least, you can use the bench as a mini bookshelf in a bedroom or studio apartment. Because of the short height of the middle shelf, most books may need to be stored on their sides. On the top, a pair of cute bookends, or in this case plants, will help to secure the books since it's essentially an open shelf.

Related post: 5 Books that helped me pursue my purpose

So that's it for now. I'll be doing a future post on how you can easily DIY a seat cushion for it so stay tuned for that.
Be sure to pin this post for future reference.
In the meantime, tell me: how would you use the LACK TV bench? And which of the 6 is your favourite?