Maximizing space in a small bedroom is such a challenge for so many of us. I mean where do you store All. The. Things.
Over the years,  I've seen many tips for getting the most storage possible out of a small space. Today, I want to share my 5 best small bedroom storage ideas.
 Yes, there are tonnes of ways you can add storage to your space but these 5 areas are a great place to start.

5 Best Storage Ideas for a Small Bedroom you can try today


These are my top small bedroom storage solutions because they're the easiest to implement and don't require any power tools or real damage to walls. So that also makes them renter-friendly!  
Alrighty, let's get started!

1.  Under the bed Storage
It's no secret that under the bed is valuable storage space, especially in small bedrooms. Out of sight and covering a lot of square footage, it's the ideal spot to stash a lot of those "not-sure-where-to-store-them" items. 
Beds with drawers or platform beds are popular these days. 
I have a bed with 4 drawers but only 2 are in use currently since my bed is against a wall. I use one drawer for bed linen and the other has… well… a lot of disorganized junk at the moment. (will be sorting that soon ;))
While not every bed frame has space below it for storage, tonnes of them do. If not, depending on the make of your bed, you add some bed risers and watch oodles of storage magically appear before your eyes.
What can you use to store or organize items under your bed?

If you don't have a platform bed, that's no problem. There are so many practical and affordable options available – both for DIYers and BUYers.
As you'll see in some of the examples below, you can use:
Rolling Underbed plastic containers

Fabric or canvas bins

Carts and Crates

Picture frames, canvas frames or shadow boxes (yes you can!)

Old dresser drawers with castors added

Wicker and seagrass baskets

A bookcase laying flat (obvs lol) on its back…plus add some wheels and voila  

Wire or mesh baskets
I love these boxes Medina from Grillo Designs made.
via Grillo Designs 
IKEA always has such great ideas, like this large under-bed wooden tray
via Ikea 
I really love this IKEA Ribba Photo frame hack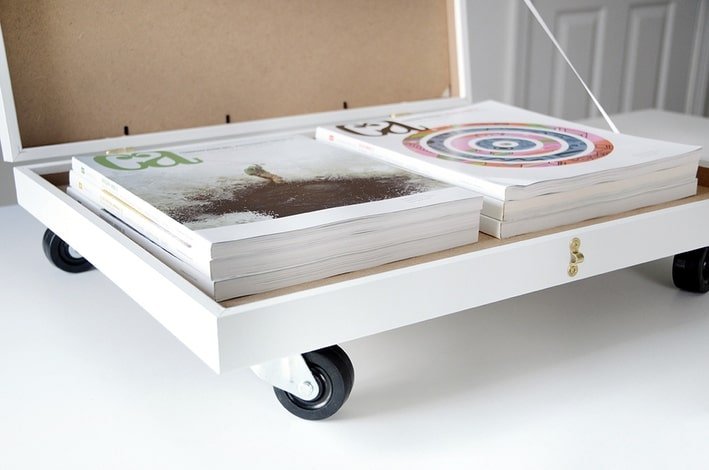 via Curbly 
Things you can easily store under your bed
Luggage

Towels

Bed linen

Extra Throw Pillows (

cue collective sigh from men all over the world lol

)

Books and writing materials

Shoes

Gift wrap and craft supplies

Off-season/bulky clothing

Exercise equipment

Miscellaneous personal items (headphones, flashlight, glasses)

Toys

A dog bed
Top Tip: You can add wheels/castors to pretty much anything. So scout your home for old drawers, carts or wire baskets, large frames or shadow boxes, plastic bins and screw in or glue on rotating castors for easy rolling under-bed storage solutions!
2.  Use Over-the-door Storage 

Over-the-door storage is another super popular way to add storage to a small bedroom without affecting its limited footprint.
It's always recommended to go vertical when working in a small area and doors are the perfect opportunity to add vertical storage.
While I am not a fan of adding lots of stuff to your main bedroom door, since you'll be seeing it when you're in your room with the door closed, there are several things that can be perfectly stored there.
What can you use to store or organize items at the back of your bedroom door?

In my room, I've been using 2 wreath holders I got years ago (in Poundland) and I store my shower caddy on one and a towel on the other. I've been tempted to add hooks to hang my handbag but always decided against it because I really wanted to keep it minimal and uncluttered. 
Some other items you can use to hold your stuff are:
Hooks and knobs

Full-length over-the-door organizer

Over-the-door coat hanger

Hanging shoe or pocket organizers

Install a towel bar with S hooks
Things you can store on the back of your bedroom door
Shoes

Handbags and purses

Jackets/Coats

Towel

Full-length mirror

Miscellaneous belongings used daily (keep it minimal though)

Hanging Laundry hamper (only if it's cute lol)
Check out these examples: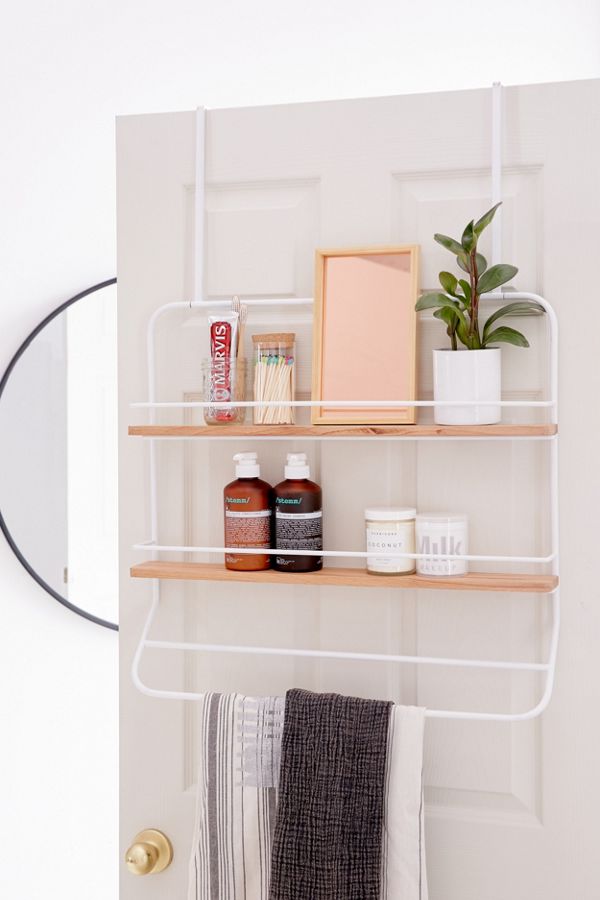 via Urban Outfitters
via The Container Store
via Wayfair
3. Use Inside Closet Doors

The insides of your closet doors are key spaces to add oodles of hidden storage. 
Like above, you can use over-the-door organizers but because they're not visible when the closet door is closed, you can definitely maximize the entire door without running the risk of visually cluttering your bedroom. 
Some closet doors are on the thinner side, like mine. So standard over-the-door hanging systems may not always work. 
But there are lots of options on the market with the slimmer hooks to go over the door.
Things you can store on the back/inside of your closet door

In my bedroom, I'm using my closet doors to store craft supplies in an over-the-door pocket organizer, earrings, necklaces, and belts. Here are some ideas:
Belts 

Hats

Jewelry and accessories 

Bags

Craft supplies

Toiletries and Cosmetics

Handbags and purses

Shoes

Workout gear
 These are some great examples:
via Homey Oh My 
via I Heart Organizing
via BHG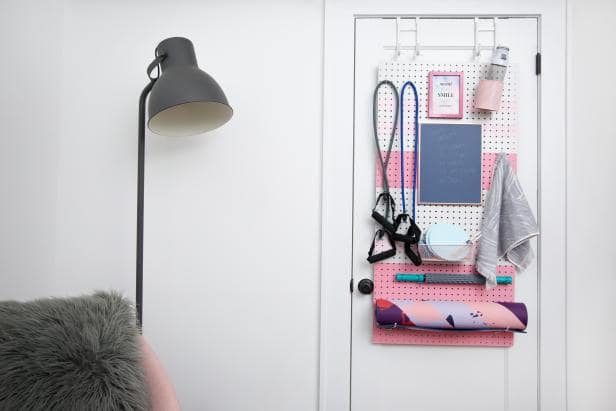 via HGTV  
via Ikea
4. Use Multi-purpose furniture with concealed storage

In a small space, having furniture that can be used for multiple purposes is a must.  This also helps you get creative with the type of furniture you use. 
For example, I recently showed how I used the Ikea  LACK TV bench in my bedroom for several years. 
Because my room is quite small, I needed something to work as an "entryway/catch-all space" nightstand storage for books and daily-use cosmetics, and daily use footwear.

You can see the full post here: 6 Ways to Use the Ikea Lack TV Bench 
Check out some other examples below:
via Homey Oh My
via Apartment Therapy
via Tonic Living
5. Display Your Belongings as Decor & Storage in your bedroom
In some cases, storage space may be so limited that you don't have a choice but to display some of your belongings. 
While it can be challenging to display your belongings without it being a visual clutterfest, here are some tips for making open storage work in a small bedroom. 
You definitely have to be selective about what you display. If using an open closet system, for example, display clothing and accessories in a common colour scheme like I did below. Having items in a similar colour palette reduces the visual clutter and adds to the overall room decor. 
Here are some other types of items that make good display candidates 🙂
via Gypsy Tan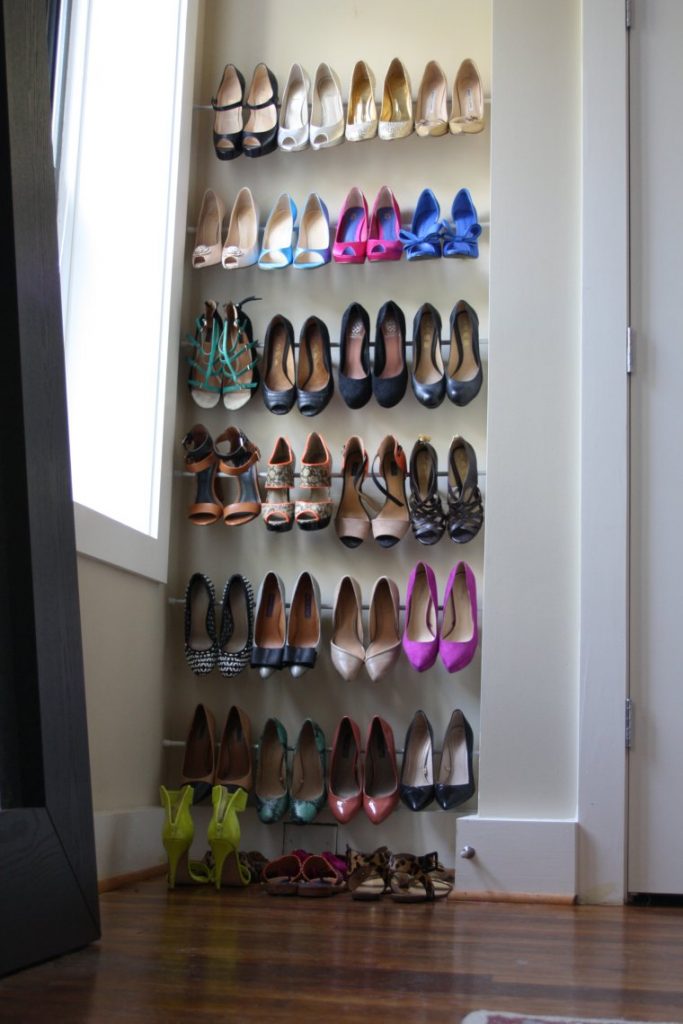 via A Loyal Love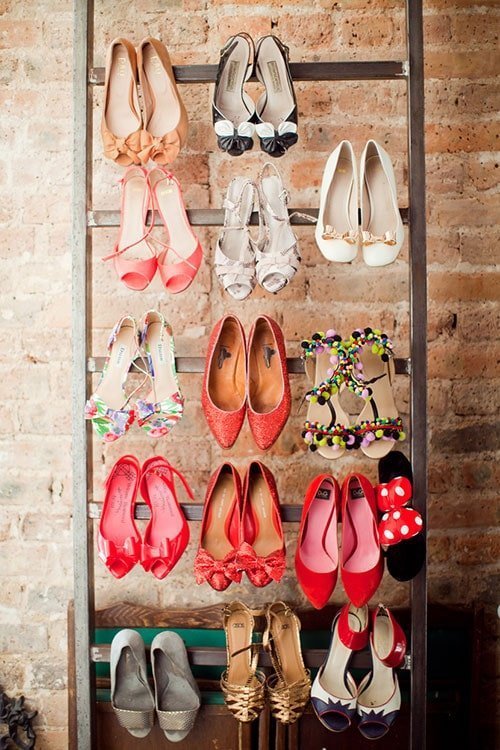 via Design Sponge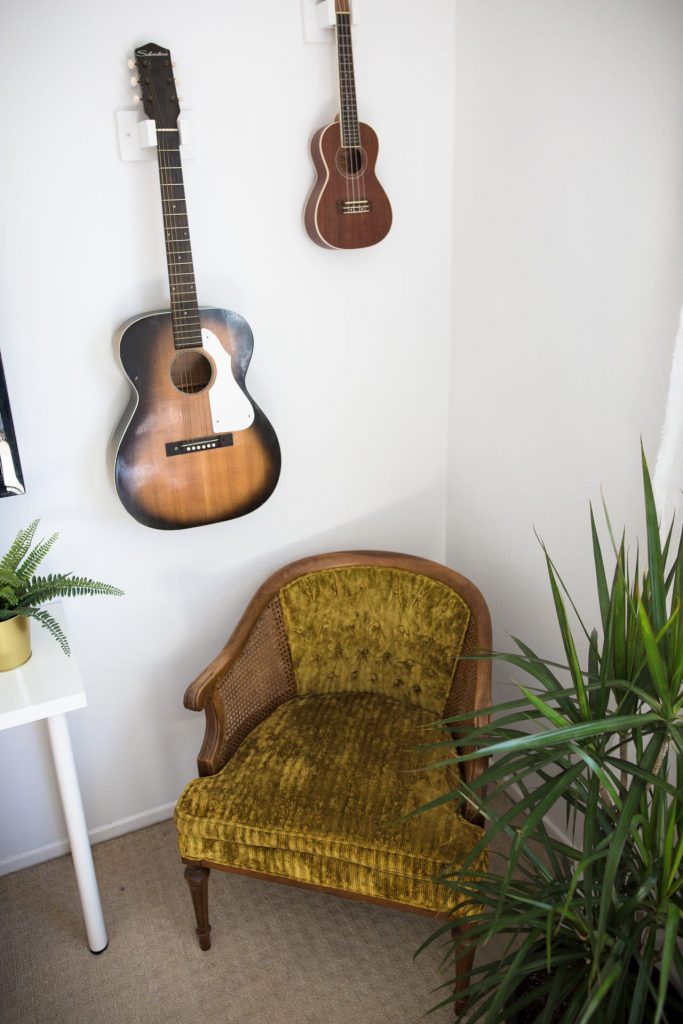 via Mr. Kate 
via DIY Passion  
And that's a wrap!!
Are you using any or all these 5 storage ideas in your bedroom? Head to the comments section below and tell me which one is your favourite!
Share these 5 small bedroom storage ideas on Pinterest