It's Week 2 of the One Room Challenge guys.
If you're new here – I'm redecorating my small bedroom over the next 7 weeks. Last week, I showed the before pics of the bedroom (Week 1).
Today, it's all about the bedroom moodboard and design plan. And I'm sharing some inspiration pics as well.
Bedroom Refresh Moodboard and Inspo
I still have to decide on a few details but here's the general idea.
I'm really excited!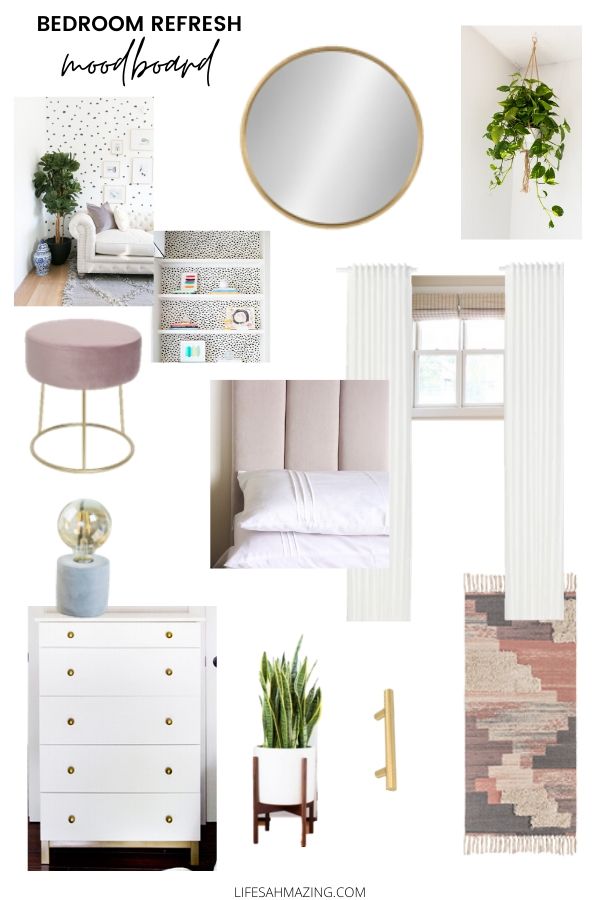 (The post contains some affiliate links, which means I may earn a small commission on qualifying purchases. Read full disclosure here.)
I'm definitely keeping the room design fairly neutral with a muted colour palette.
I'm linking to the sources (whether it's the blog post or the product page) for the inspo pics in the moodboard.
Vanity stool : The vanity stool will be an Ikea hack, inspired by this gorgeous upholstered stool with gold base.
Ikea Tarva Dresser Hack: This hack by Sarah Sherman Samuel was what initially inspired my own Tarva makeover years ago. It's due for a repaint but I'm sticking to the white paint with gold hardware.
Snake plant in mid century planter: We have lots of snake plants at home. I've been wanting to DIY a mid-century modern planter for ages so I'll be attempting one like what's pictured.
Textured rug: I purchased the rug and received it this week. It feels sooo good underfoot.
Hanging Ivy plant (faux): I purchased this faux Ivy plant last year and can't wait to hang it above my bed in a macrame plant hanger.
Concrete Lamp: I going to attempt to DIY this lamp from Wayfair. Wish me luck!
Bamboo blackout blinds: I love how these bamboo blinds look in Casey's bedroom on the DIY Playbook. Not sure I'll find the exact type here in Trinidad, but I'll try. I absolutely need blackout blinds.
UPDATE: You can check out the full bedroom reveal in this post. I love how it turned out!
Bedroom Vanity Nook
The area I'm still deciding on is the vanity nook. I want to add some pattern on the bit of wall where floating shelves will be.
I can't decide whether I want a spotted pattern like this photo below.
I'll definitely be adding floating shelves like this though.
I've also wanted to try out this cool accent wall painted with makeup brushes by Mr. Kate.
I'm kinda leaning heavily in this direction!
Finally, I also like the organic herringbone look but I'm not sure about adding more lines on this side of the room.
Especially since there's a wall of cabinets on either side and floating shelves in the nook.
This week, I'll be tackling the DIY headboard while I decide on the vanity area.
So that's me for Week 2 of the One Room Challenge!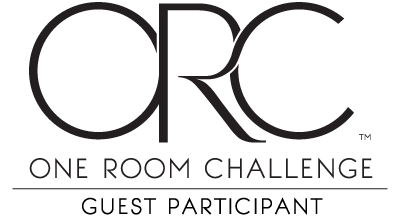 Follow the entire bedroom refresh here:
Week 1 – Befores | Week 2 – Moodboard and Inspo (you're here)| Week 3 – DIY Channel Headboard | Week 4 – Paint | Week 6 – DIY Vanity Nook
Also, be sure to check out the ORC blog to take a look at what the Designers and other guest participants are doing!
WANT TO REMEMBER THIS? Save this bedroom moodboard to your favourite Pinterest board!