If you're looking for a quick organizing project you can do, this post is for you.
So first up – I don't own a lot of make-up.
But I have a drawer, where I store some of the "25 or so" makeup supplies and products in my name, which was badly in need of some organization.
It had become a kind of junk drawer for makeup, hair accessories and other random bits.
So it was definitely time to bring it from random junkness (yes, it's a word) to an organized makeup drawer. Well… technically, a make-up and hair accessories drawer. But that's kinda long for a title.
Ok, ready for the before?
(The post contains some affiliate links, which means I may earn a small commission on qualifying purchases. Read full disclosure here.)
The drawer is the top drawer in my Ikea Tarva 5-drawer dresser (which I plan to give a much-needed makeover soon).
It's a shallow drawer so perfect for make-up and accessories.
I had previously organized most of the makeup supplies in clear plastic containers – 2 old Ferrero Rocher containers and a drawer organizer set from Ikea (doesn't appear to be available anymore sadly).
I knew I wanted to stick with clear/acrylic organizers so I kept those same containers.
Quick Tip: Organizing items with the same type/colour of containers – i.e. all clear/acrylic or all with hints of copper or blue – helps create a streamlined look.
How I organized my makeup drawer
First, I cleared the drawer and sorted things I was keeping vs dumping. Found a screwdriver… random?!
Next, I gave the drawer a good clean since it hasn't been done in a couple years a while.
I decided to spruce up the inside of the drawer with contact paper.
I went back forth between using my favourite marble contact paper or this chevron pattern paper I've had for years.
As you can see, I decided on the chevron because I prefer to save the marble paper for visible areas (like my desk) since it's so pretty.
Related post: How I Transformed My Old Desk with Marble Contact Paper
To install the paper, I decided to remove the drawer bottom so that I could just measure the paper to the exact size of the base.
Since I couldn't remove the plastic screws, I unscrewed the track and loosened the main bolt on one side of the drawer in order to remove the bottom.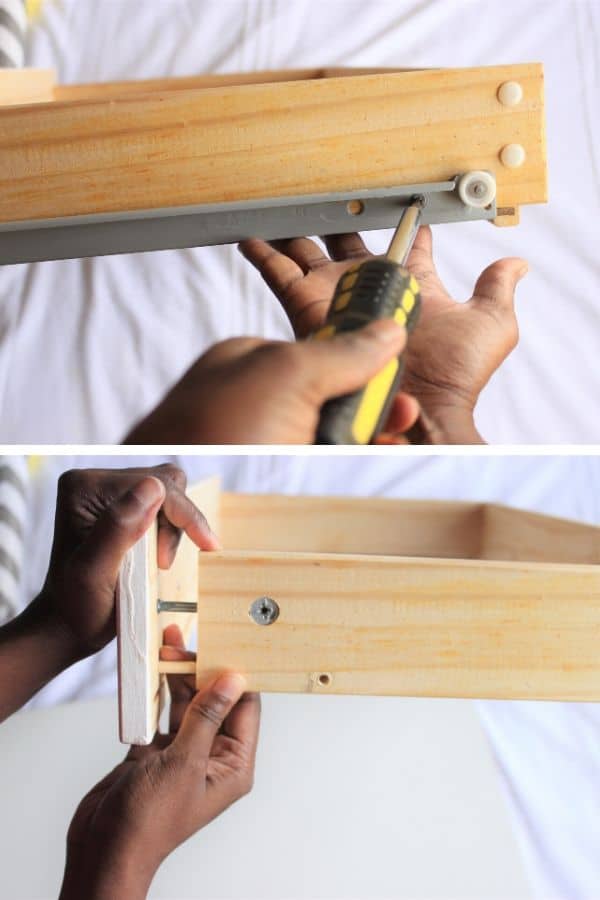 BTW, if removing the bottom isn't possible, you can measure the inside and use the gridlines at the back of the contact paper to cut out a perfect rectangle (or whatever shape your drawer is).
Next, I used the base to draw the shape on the back of the paper.
To make cutting in a line fast and easy, I love to use an X-acto knife or craft blade together with my self-healing cutting mat.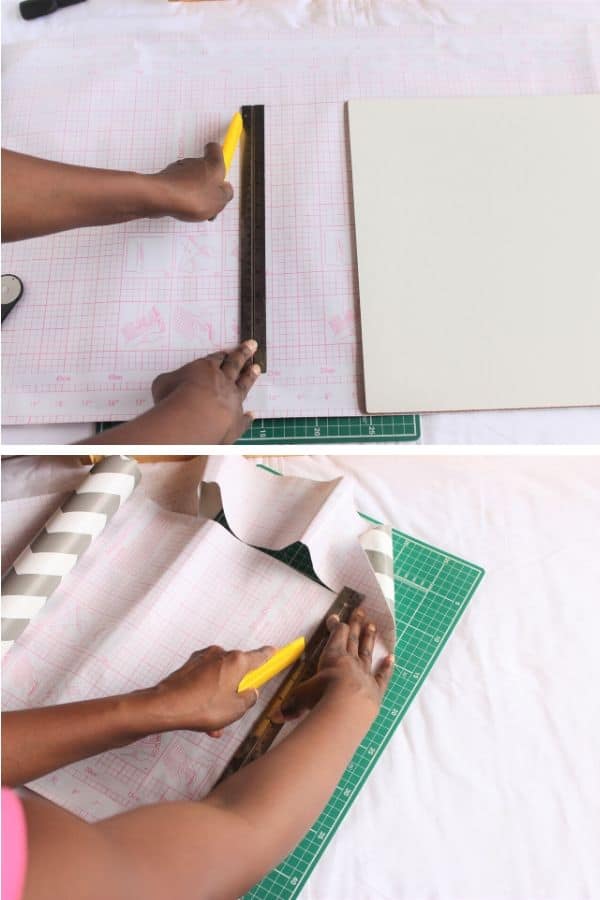 But you can certainly use scissors to cut it out if that's what you have on hand.
Once cut, I peeled back a small portion of the paper bit by bit and slowly stuck it along the board, smoothing out bubbles as I went along with an old card and my fingers.
I started off applying the contact paper from left to right but then removed it and did top to bottom.
I used a card to smooth out some of the air bubbles. For the stubborn bubbles, I stuck a teeny hole with a pin and pushed out the air with the card.
And look at that transformation. Simple but so so effective!
Ok, back to organizing my supplies.
I threw out the expired, old items as well as products that hadn't been used in ages.
Over the years, I've been trying to reduce how much make-up and cosmetics I use in general so I was surprised at how many old products I had still that I had stopped using.
I organized the smaller items into the containers as follows:
Container 1 (used Ferrero Rocher): Cleaning mat and brush cleaner
Container 2 (used Ferrero Rocher): Face products
Container 3 (Ikea set, old): Lip products
Container 4 (Ikea set, old): Eye products
Then I used the 2 lids from the Ferrero rocher containers to store hair ties and clips.
I stacked the bulkier items (makeup brushes and eyeshadow palettes) on top of each other.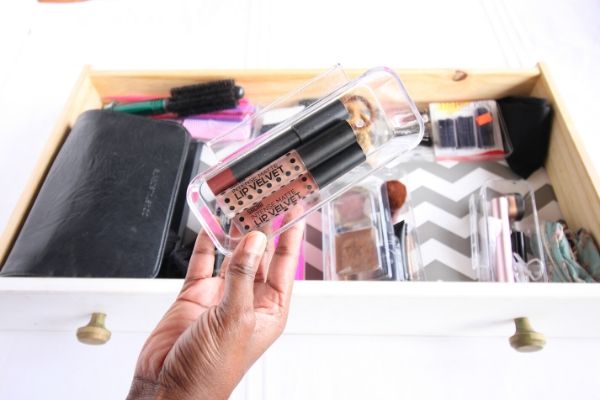 Cleaning out and organizing this makeup drawer has been on my mental to-do list for ages.
Now that I have some down time, I had no more excuses.
And because we all love a good before and after, here's my old drawer and my new organized make-up drawer.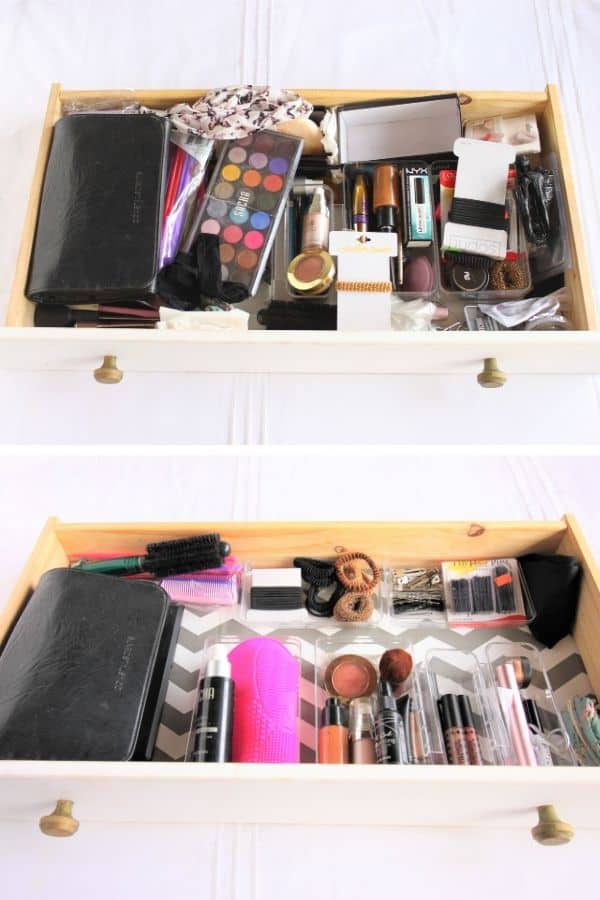 So glad it's finally done!
How do you organize your makeup? Do you have a larger makeup collection or similar to mine? Let me know in the comments.
Feel free to share on Pinterest!