Lazy susans are super useful for maximizing storage in many parts of the home. They're quite popular in kitchens and pantries where they're used to solve the challenge of corner kitchen cabinets.
Here's an easy way to make a lazy susan for your office as they are really handy for organizing desk supplies.
You can, of course, use this same example to make lazy susans to use anywhere in your home.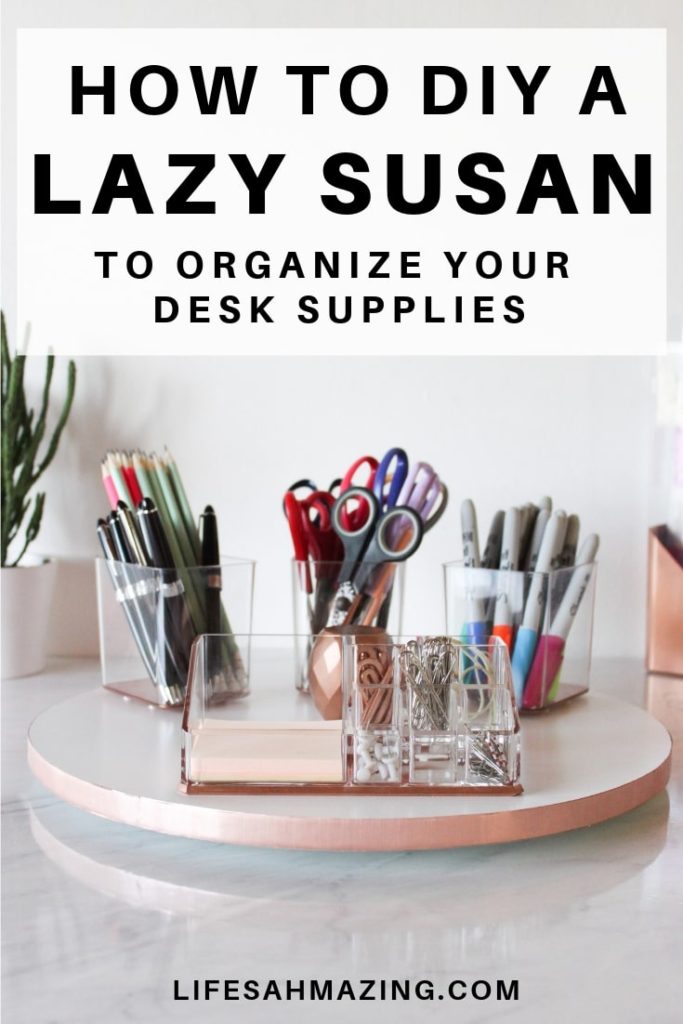 I've been slowly working on my office nook at home (you can check out how I covered my desk with marble contact paper here).
I previously had most of my supplies and stationery out of sight in my credenza at the side of my desk. While most things were within arm's length, I couldn't reach quite a few items because the credenza is quite deep (20 inches or 51 cm).
So, I usually ended up moving things around to reach them but not returning them to their original spot. This was often the result….
Not cute.
When I was brainstorming ideas for organizing my desk supplies, I immediately knew that a lazy susan would solve that problem.
This DIY lazy susan is super simple and requires just a few key supplies.
I made a video tutorial as well in case you prefer seeing it in action. The written tutorial follows below the video.
How to Make a DIY Lazy Susan to Organize Desk Supplies:
Quick Links to Information in this Post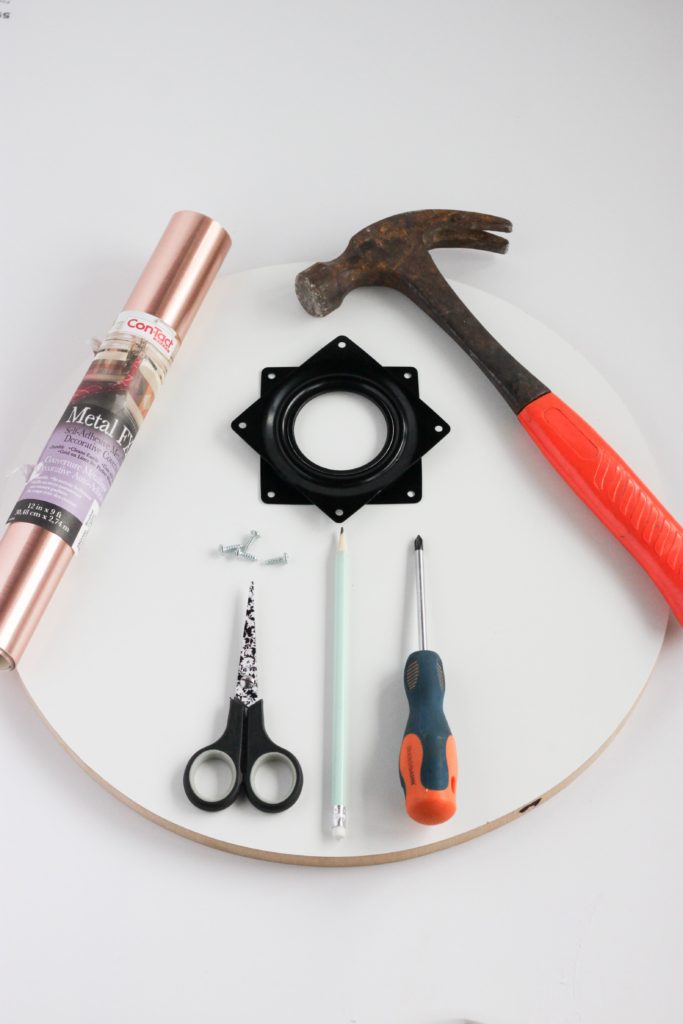 (This post contains some affiliate links. As an Amazon Associate, I may earn a small commission from qualifying purchases. Read my disclosure here)
Materials needed:
Wooden Cutting board to fit the size of space (my cutting board is 39 cm in diameter)

Lazy susan turntable (note that this goes by different names – such as ball-bearing hardware – depending on where you're from)

4 small screws – I used 1/2 inch screws

Philip head screwdriver

Hammer or drill if you have one

Pencil and ruler
Copper Contact paper or paint colour of choice
Scissors or X-acto knife

Small brush – I used an old eyeliner brush

Blu Tack or sticky putty (I love using this to hang stuff and keep items in place!)
Cutting Mat (optional but really useful as a protective surface if you're into crafting/DIYing)
Steps:
First, I tackled the edge of the cutting board.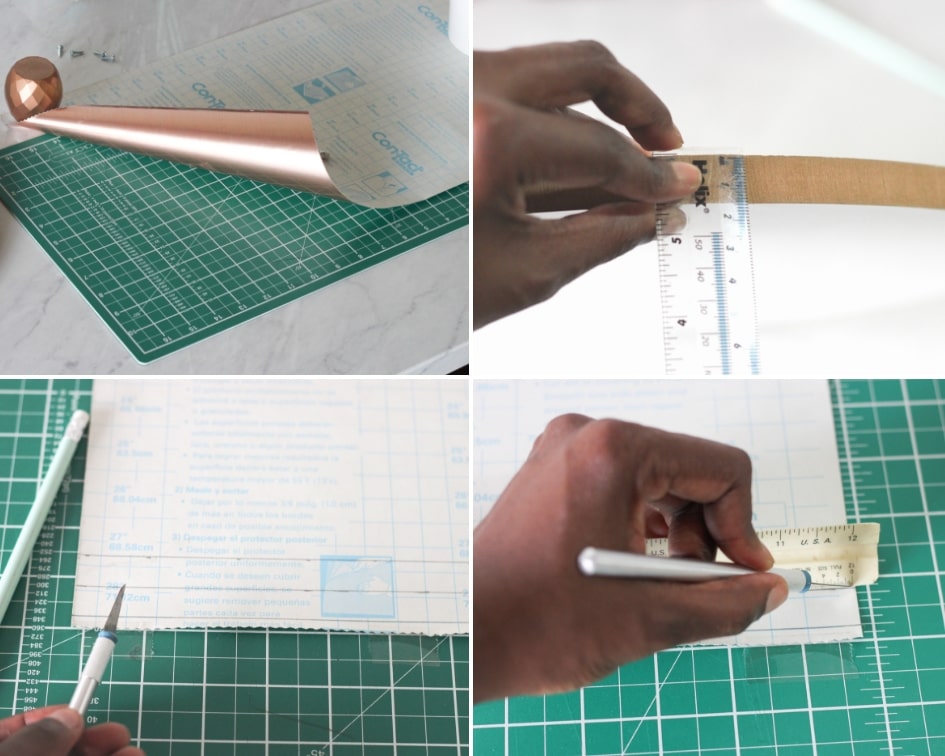 I initially planned to paint the side with acrylic paint but decided instead to use some copper contact paper I had. You can definitely paint it if you'd like.
I measured the width of the board and cut strips of the contact paper down to size. I needed 4 strips and a smidgen to cover the circumference.
Although the contact paper is sticky, it wasn't adhering to the side of the board because the edge had this fuzzy kinda texture.
So I ended up using Mod Podge to secure the paper. That took about 15 minutes.
Next, turn your board onto the side that you're going to secure the turntable bearing to.
Center the turntable on the board. I eyeballed it but you can certainly measure to the center of the board to be precise. 🙂
Use a pencil to trace the inside of the holes where you'll be screwing in your screws.
Remove the turntable and using one of the screws and a hammer, lightly pound the screw to make a small hole so that it'll be easier to screw them in later.
Place the turntable over the holes and screw in your screws.
To secure the base of the turntable to my surface, I used some Blu Tack around the edges. This holds the turntable in place and prevents it from sliding around.
And that's it!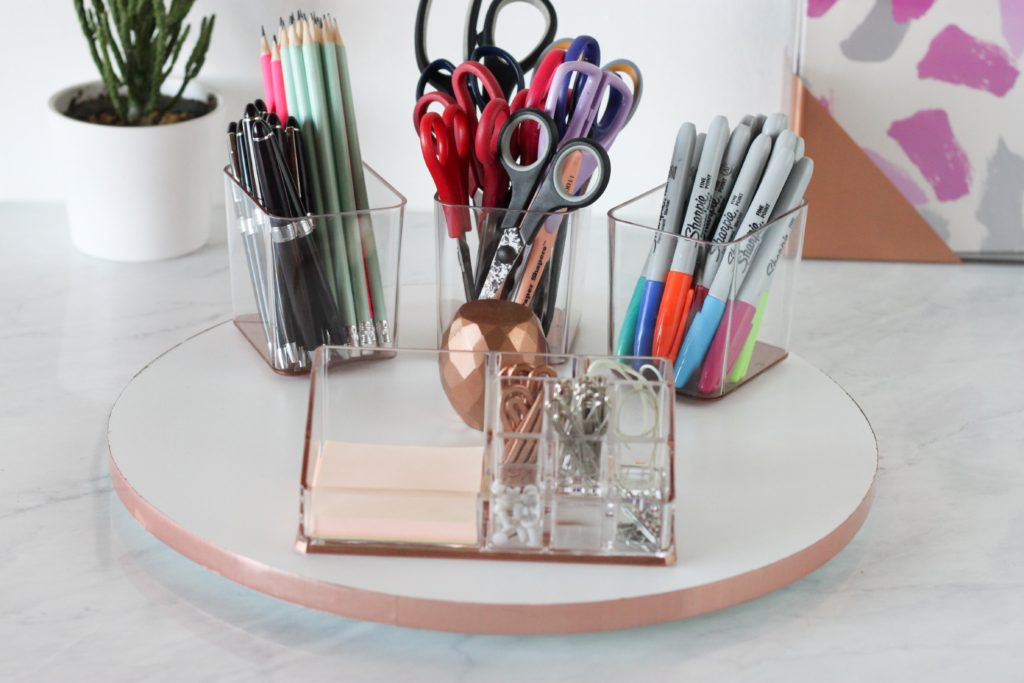 I also added bits of the Blu Tack on the bottom of the containers so they didn't slide around on the lazy susan but could be easily removed if needed. That also means I could use the lazy susan elsewhere if I wanted to (like for a dinner party canape platter!)
The entire process took about 30 minutes because I decorated the side of the board.
Without that step, it would take less than 10 minutes to make!
So you can easily whip up a few of these lazy susans in an afternoon to use around your home.
Here's how the lazy susan looks in the space….
Such a difference!
You can check out how I added some glam to the storage containers in this post.
What do you think? Do you have any lazy susans currently in your home?
Let me know if you decide the try this out.
Pin for future reference!