Organizing a small closet on a budget is something many of us long to do. However, it often feels like it's an ongoing challenge trying to fit #allthethings into a tiny space and not make it look like an episode of Hoarders.
And so many of the popular and pretty closet organization systems come with some equally pretty pricetags which makes a beautifully organized small closet feel out of reach.
Well, you're in luck! Today I'm sharing 7 of my tried and true closet organization hacks for keeping my small closet organized on a budget (and some of them are FREE).
My 7 Favourite Small Closet Organization Hacks
Quick Links to Information in this Post
(Disclosure: this post contains some affiliate links. As an Amazon Associate, I earn a small commission from qualifying purchases. See disclosure for details.)
I've separated them into 2 categories:
(1) clothes hanging systems and
(2) storage boxes, drawer organizers and baskets
Clothes Hanging systems

Having the same type of clothes hanger is one of the top small-space organizing tips for your closet. I use a range of hangers for different purposes as I'll show below.
Apart from using the same type, using slim hangers are also key. I try to avoid wooden hangers except for very heavy items (like coats) since they are super bulky.
Ok, let's get into the hangers I recommend.
1. Use Slim Plastic Clothes hangers
I got these plain black plastic hangers in the UK for 1 pound for 10. They are smaller in size than the average adult hanger (see photo below) and they also have a slim profile.
I use them to hang blouses and shirts. I've had them for over 9 years now; none of them has ever broken or gotten warped. #knockonwood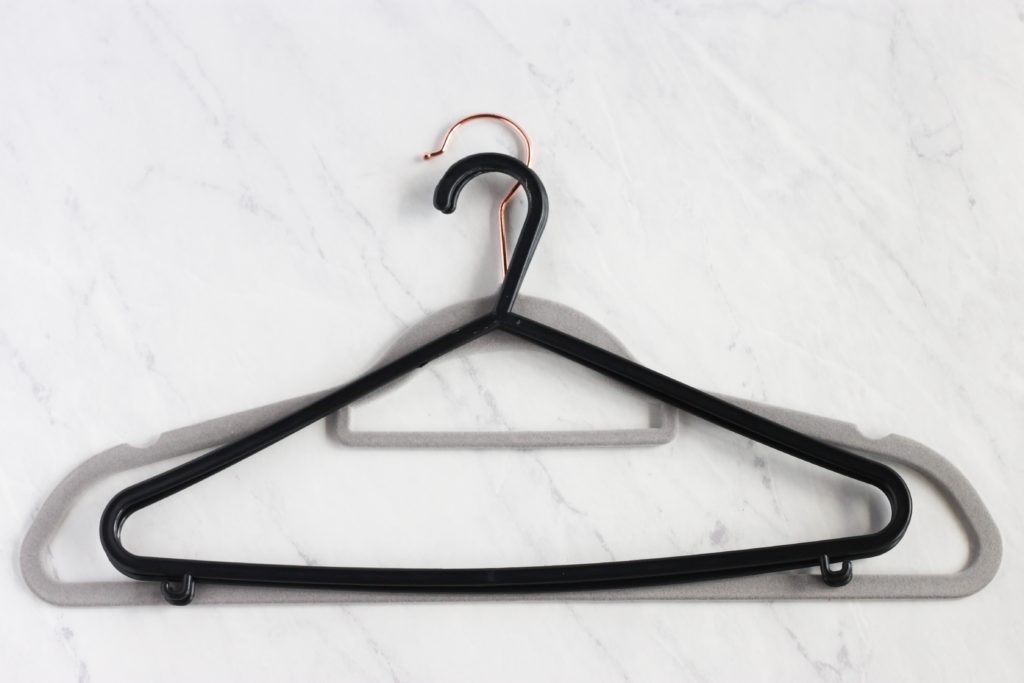 The Dollar Store, Pound Store and their equivalents are great places to score cheap hangers so you can create a unified hanging system on a budget. Also, always aim to get slim hangers to maximize space.
2. Use Velvet Hangers
Using velvet hangers is usually one of the top tips online for closet organization – they are slimmer and therefore allow you to store more clothing.
They also make hanging your clothes easier since they are non-slip. The unified look is also a big factor in making your closet look tidy.
I've had velvet hangers I got in Primark (UK) for over 4 years but only started using them just over a year ago.
(Anyone else has a bad habit of buying pretty things and then not wanting to use said pretty things until the time was right because you didn't want to waste the pretty things? Only me? No? Whew!)
Once I switched out my old random hangers for these babies, I knocked myself upside the head for not pulling out my velvet hangers sooner. They instantly made such a difference!!!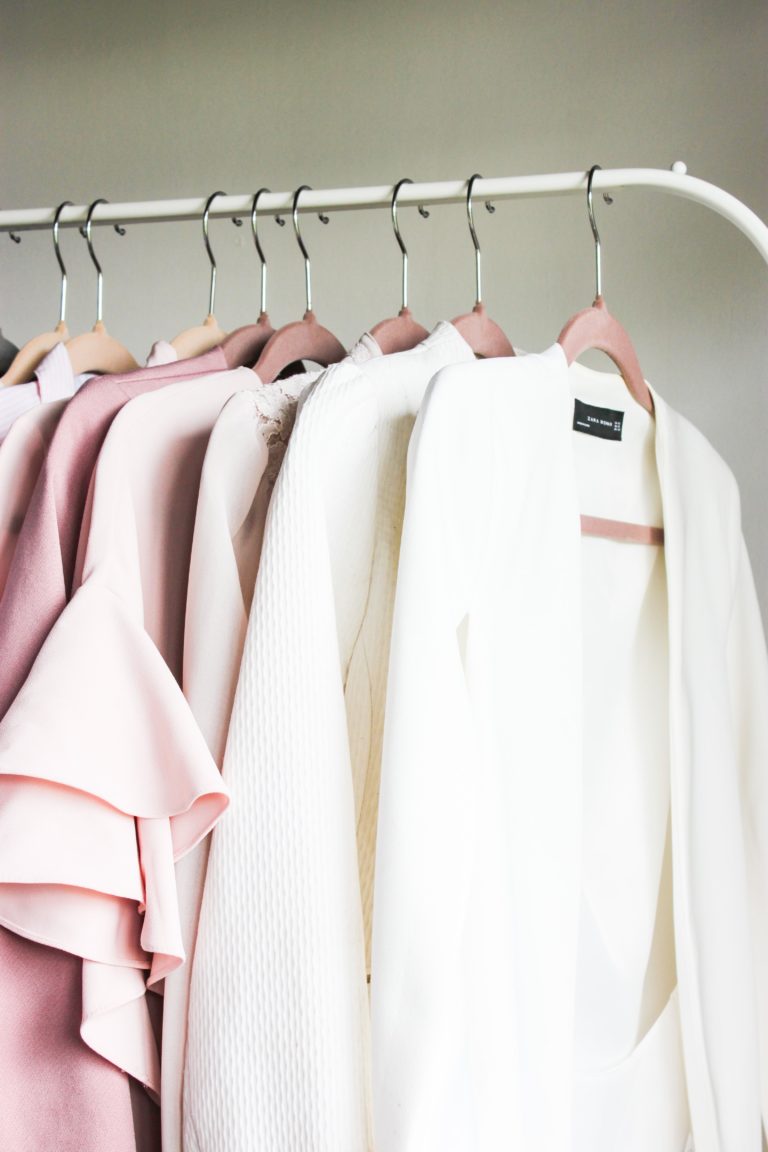 They are also perfect if you have an open closet system since they do have a super glam factor.
I've collected different pastel-coloured ones in Primark over the years and particularly love the grey and copper ones I got on sale there.
☑️ You can get a pack of 30 grey velvet hangers here or similar 50 blush pink and rose gold ones here.
3. Use Space-saving Cascading Hangers

for Skirts and Pants
My skirts always ended up in a crumpled mess at the foot of my bed until I got these rose gold skirt hangers.
I got a dozen in the pack and used 8 of them. I hang 2 to 3 lightweight skirts per hanger and stack them in pairs since I don't want too much weight on the 1st hanger.
But you can definitely stack more together if you'd like. I made a gif below to demonstrate. 🙂
For my trousers, I've been using these space-saving trouser hangers for years. I got these at a home expo so I didn't have the benefit of reviews. While they are a little finicky at times to get the trousers on, they have really helped me store my trousers quite easily.
I also prefer them to the other types of pants hangers which are different tiers in one hanger. With this one, you can pull out the rod with the trouser you need and push it back in.
I couldn't find ones like mine but these got great reviews on Amazon.
You can also use the rose gold skirt hangers I linked earlier for a matching look.


4. Use Space Saving Hanger Organizers for Tops

Like the pants hanger, I got these several years ago at a home expo and they've never left my closet since. I use these with my tops – blouses, shirts, blazers and work jackets – since they hang easily when collapsed without the clothes touching the bottom of the closet.
I usually hang 2 tops (even my blazers/jackets) in 1 slot on these hangers so one fits 10 items easily. I use 3 of them for blouses and shirts and they hold 30 in all!
And this works because the hangers are all slim and therefore easy to group items together.
These are similar ones on Amazon and they're super popular. You can check out similar space-saving shirt hangers here. 
Storage Boxes and Baskets
These are a must-have for corralling similar items and keeping them neat and contained. I use a range of storage bins, boxes and baskets which are either free or really cheap.
5. Use Plastic baskets

Dollar stores and their global equivalents are great places to grab plastic bins for use around the home. I got these in the Pound store years ago and still use several of them to store my camis and previously vests. I roll them and that way I can hold about a dozen in each container. They can be used inside drawers or on open shelves.
I have been using these in different parts of my home for about 7 years and none of them ever broke…except of course until I decided to write this post. Two days later, you can guess what one of them decided to do. Life! 🙂
6. Use Canvas/fabric boxes

These IKEA SKUBB boxes are a must-have! I am a major fan of Ikea, as you can tell from my post on how I used the LACK TV Bench. They have so many goodies that make home organization a breeze at very little cost.
This set of 6 boxes comes with 2 large square ones, 2 rectangular and 2 small square ones. The large boxes are used to store my workout clothes (let's pretend I still do that, shall we?) and my home clothes/PJs.
In the 2 rectangular and 2 small square ones, I keep my intimates and feminine products. Yes Daddy, I'm showing my knickers on the internets. ;P
The boxes are collapsible when not in use which is a win-win.
7. Recycle Old Product boxes
This is my favourite tip because they're FREEEEE… well technically.
You've already bought the product. Don't be in such a hurry to throw away the packaging. Recycle it in your own home.
I've already confessed that I may or may not have a problem hoarding boxes but I'm sure you can understand why. They provide sturdy, versatile storage solutions at no cost to you!
For my scarves and pashminas, I use an old Ikea box that fits in the drawer perfectly with the Ikea SKUBB boxes.
And I use these boxes to store a range of tops. I think they were packaging for a 6/8-pack of juice cartons.
I used to have them on an open shelf and now use them in my Tarva dresser.
The 4 boxes fit puurfectly in the drawer which seems like they were tailor-made for it!
It's often recommended that you fold your clothes and store them vertically – i.e. filing your clothes – for easy retrieval and maintenance. Drawer dividers make that system even more effective.
What I like about these instead of drawer dividers is I can move the boxes around and remove them from the drawer easily if needed without disturbing the clothes.
So my top tip is if you have grocery items you purchase on a regular basis that come in similar packaging that can be re-used, keep several of the same packages to create a set of storage boxes that are the same size to be used in your closet. It makes life a lot easier.
And that's it for now! I'm currently reorganizing my closet and will have another post later on showing how everything is organized – including accessories – and what is stored where.
In the meantime, which is your favourite closet organization hack? Do you have any other wardrobe tips to share? I'd love to hear in the comments.
Don't forget… you can grab your closet organization labels by signing up here!
PIN ME!