Vision boards are such powerful tools! I'm a firm believer in using visualization techniques to create mindset shifts. So high-five for wanting to create your own vision board for a purposeful and intentional life. Vision boards can serve as roadmaps and reminders of what experiences you want to create in life. I created my first physical board in 2018 and I'm letting you in on the process I used.
As I mentioned in my post on overcoming negative thinking, creating a vision board was a huuuge step in helping me to reframe my thinking and keep focused on the big picture vision for my life, my goals and the feelings I wanted to create.
My vision board has a combination of my big picture goals and some short- to medium-term goals as I wanted to have a continual reminder of my long-term vision.
However, your vision board is all about you so you can create it to suit your needs.
Vision boards help you to connect with the life you see when your eyes are closed yet feels impossible when you look at your current, day-to-day circumstances. Seeing an actual representation of what you want to create in life and how you want to feel gives you a huge push in actually believing that it's possible.
And what you believe is THEEE most important thing in steering how you live your life.
Ok, ready? Grab a pen and paper and let's dive in!
Vision is a clear mental picture of what could be, fueled by the conviction that it should be."
― Andy Stanley, Visioneering: God's Blueprint for Developing and Maintaining Personal Vision
Think about your big picture
Quick Links to Information in this Post
Whether you're making a vision board to reflect your goals only for the year ahead or not, I think it's important to spend some time thinking about your life's purpose and what legacy you want to leave. Some great questions to help this process along are:
What's your why?
What do you want to create in life?
What's your passion?
Where do you see yourself, God's willing, in 10 years? 20 years, 60 years?
What do you want your legacy to be?
What kind of impact do you want your life to make?
Sometimes, when your present is so difficult and agonising to face, it's really hard to look past your current situation and allow yourself the freedom to really envision the YOU of 10, 20 or 30 years from now.
I know for me, it took some getting used to because I had come to the point of being so fearful of the future, I didn't want to dream big because it would just mean another sign of failure if those dreams didn't come to pass. I also felt (and still sometimes deal with feelings) that just on the other side of hope or a blessing is some trial or test. However, I would get repeated glimpses in my mind of a bold, free ME living with intention and purpose… and I so wanted to meet that version of myself.
Do you ever feel like that? Well, I totally get it. But here's what, the journey to that person starts with every single action you take today.
And the realization that everything you were created to be is already on the inside of you!
So, connecting with your deeper purpose really brings a sense of clarity and hope.
How do you do this? Spend some time in prayer and reflection. While a vision board can really represent anything you want it to (again, it's YOURS), connecting with a purpose greater than you helps steer the focus from a series of pictures of only material goals (cars, dream home, money) to what legacy you want to create through your life. If you do want the former, no judgement here though!
This reflection process takes time so be sure to carve out enough uninterrupted time and let your mind be free! Then write whatever big visions come to your mind.
If you find it difficult to believe in that big picture vision, then you need to actively challenge those limiting beliefs that keep you stuck. Check out my post on 7 ways I stopped negative thoughts (one of them was creating a vision board!)

[bctt tweet=""If your vision is for a year, plant wheat. If your vision is for ten years, plant trees. If your vision is for a lifetime, plant people. CHINESE PROVERB"" username="NickeshaLifesA1″]
Set your goals
After getting clear about your why and your big picture, it's time to start setting intentional goals in each area of your life: health, spirituality, business, family, education, etc.
If you're doing this process at the beginning of the year, then choose your word for the year or set a theme for the year. My theme for 2018 was "Be fearless!" This year, I want to be more consistent in everything I pursue so that's my theme – Show Up Consistently.
Your goals are essential elements for your personal success. They are the roadmap needed to fulfil your vision. They are also necessary to help you live with intention and remain focused on what's important in your life.
You've probably heard this a million times but you can't just set an arbitrary, ambiguous goal (aka what I was doing for most of my life); you need to set SMART goals based on your big picture. If you're not familiar with the acronym, it means your goals need to be:
Specific (clear and concise)
Measurable (can be tracked and evaluated over time)
Attainable (challenging yet achievable)
Relevant (must be linked and aligned to your long-term goals and big-picture vision)
Time-bound (must have a targeted timeframe in which to be achieved)
In this article, Brian Tracy gives a great overview of the goal-setting process and what SMART goals look like. He uses the example of saving money. Many people desire "to start saving more money". However, he points out that the goal isn't a SMART goal, but it can easily be modified so that it is one.
"For example:

You could say that you want to save $10,000 a year for the next ten years.

Now, the goal is specific and measurable, since you have an amount that you are shooting for and the ability to measure the amount you end up actually saving. This goal is time-bound as well, since your goal is to save a specific amount each year over a given period. Whether the goal is achievable depends on your own financial situation, but assuming it is, the goal fits that criteria as well.

Lastly, you have to analyze whether saving money is a relevant and important goal for you personally. Assuming it is, then the goal in this example fits all the criteria of being a SMART goal."
So, make a list of the short-term and long-term goals you want to reflect on your vision board to serve as the visual reminders of what you want to achieve.
Gather images and inspiration from Pinterest, the Internet and Magazines
Pinterest is my go-to place for er'thang! I found it easier to use Pinterest for my images since there would be an endless supply of exactly what I wanted to reflect on my board and in the colours I like. (I was going for a pink, gray, navy and gold look overall so I picked images that matched that aesthetic).
It was also easier to use Pinterest since I already have so many of the aspirational things I want to create in my life pinned on different boards. Here's my Pinterest board I created with some of the images (follow me on Pinterest while you're there!). I also used images of my favourite spaces in my other home decor boards (bedrooms, living rooms, etc).
If you're going the magazine route, gather magazines that are likely to have the kinds of images you want to reflect.
Because I knew I needed a major mindset shift, I filled my vision board with lots of affirmations, bible verses and feelings that I wanted to embrace.
Oh and one more thing about images: Make sure there's an image/s of YOU and your name! It's one thing to put images of what you want to create and manifest in your life but placing an image of yourself and your name prominently on the board helps your brain to attach those images, feelings and desires to you and your life.
You're not looking at someone else's life or highlight reel. It's all you boo!
Again, it's all about challenging those limiting beliefs that can creep in to discourage you and distort your vision.
Gather your supplies and organize your images on the board
I printed my images on cardstock and on stuck them onto a large picture frame using blu tack.
You can use anything that's available to you such as:
Large poster board
Foam core board
Bulletin board
Cork board
Wall grid
Empty wall
Grab your cutting tools and your adhesives (glue, double-sided tape, washi tape, blu tack) and cut out your images.
After cutting out your images, organize them to your liking to create a collage. You can opt for the messy, organic look or the organized look. I tried both and then opted for the latter.
Place your vision board in a place where you'll see it every day
Of course, you've gone through all the effort of making a vision board for a reason. You need to see and interact with it. Every. Single. Day. The images and words you have on your board need to become a part of your very being. You need to constantly visualise yourself living the life your desire and reaching every goal you've placed on the board.
It serves as a powerful reminder when you are discouraged, overwhelmed, distracted or any other emotion that is bound to come. It's life.
I placed mine on my dresser so I see it every morning before I leave home for work and every night before bed.
While seeing your board every day is critical, you have to actively put in the work in the goals you detailed earlier in the process. Without a plan, your vision will perish.
Here's checklist to recap the key points on how to create a vision board: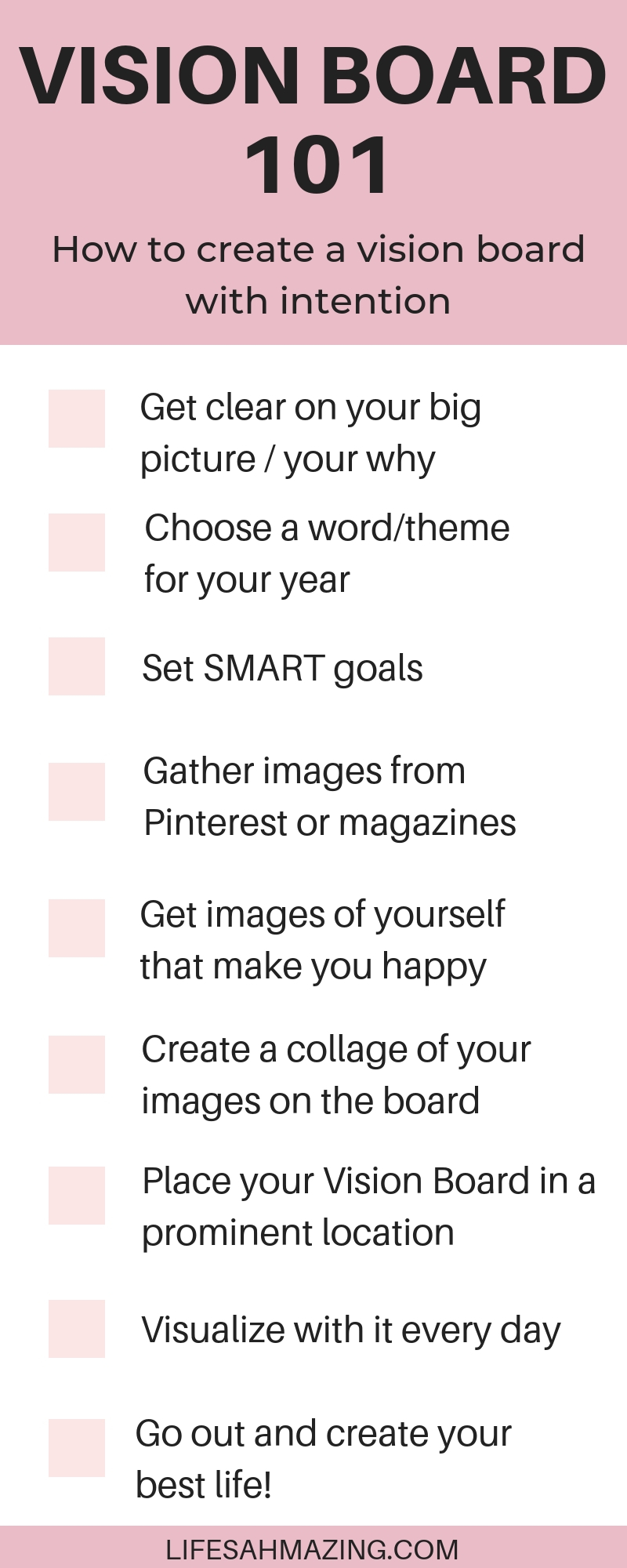 I wish you success, peace, happiness and clarity!
Before you go, I love to hear how you plan to go about creating your vision board. Tell me in the comments below!
Share on Pinterest 🙂