It's hard to believe that six months ago, I pressed that little button to make my blog go live. Having a blog was something I had thought about for ages and I even started building a free blog on Blogspot 5 years ago but never followed through. It was one of my "big scary goals" and I'm so glad I followed through. I wanted to share the 6 lessons learned from blogging for the past 6 months. And I hope it inspires you to start on whatever goal you've been procrastinating about.
6 Lessons Learned from 6 Months of Blogging
Quick Links to Information in this Post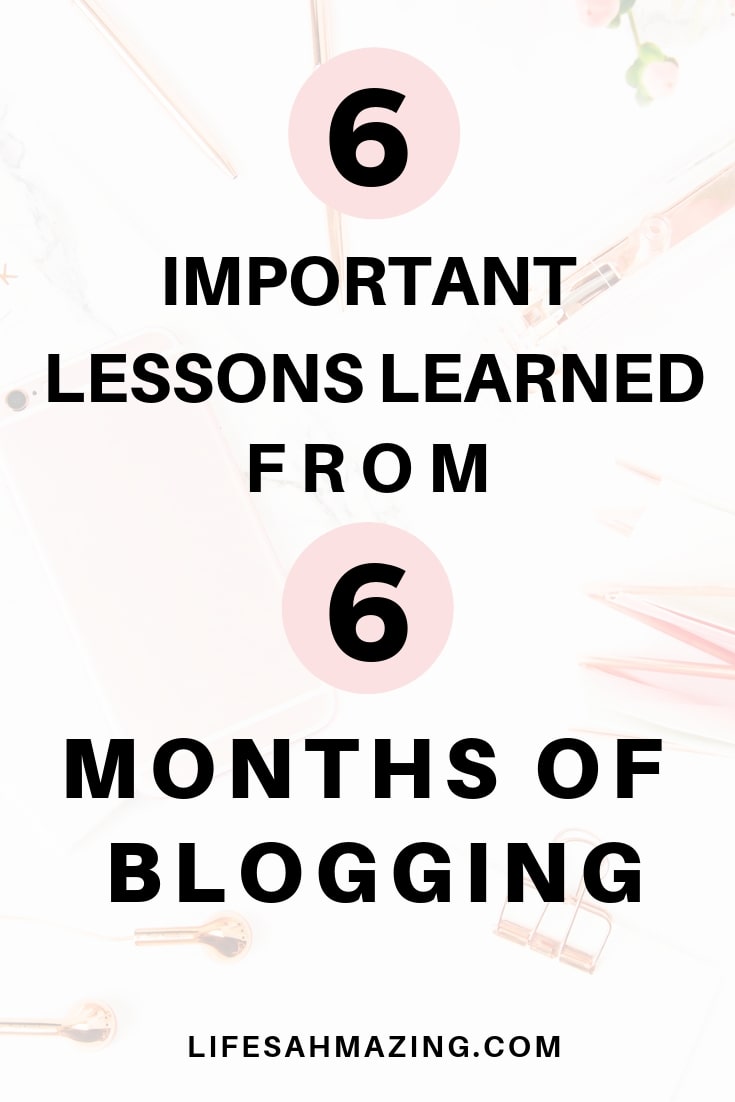 #1  You learn and grow by actually doing
Yeah, I know. It sounds pretty obvious. But I realised that I was trying to have everything "together" before putting myself out there. I wanted to have all the information, details, how-tos BEFORE. I suppose in some way I was looking for a guarantee that I wouldn't fail since I'd know exactly what I needed to. But honey, that's not how life works.
Starting the blog forced me to confront all the things I thought I needed to "sort out" before creating a public platform: I needed "more time in my day", to be knowledgeable in #allthethings, confident and in my own home. Most of all I felt I needed to "be ready".
However, once I started, things began to fall into place. As I learned, I became aware of more and more resources that helped me to get exactly where I needed to be at that point in the journey. I realised that:
I didn't need more time… I just needed to be more organized
I didn't need to be an expert… I just needed to share my journey and experiences with persons who could benefit from such.
I didn't need more space… I needed to maximise my current resources (and guess what, it's been working just fine!)
And lastly, confidence comes from doing – actively taking steps and being intentional about it.
[bctt tweet=" Do it afraid!" username="NickeshaLifesA1″]
#2  You learn to focus on YOUR why
There is A LOT of information out there on what you should and shouldn't be doing when it comes to blogging. Monetize from day 1, add ads from the get-go, join affiliate programs, do this or do that.
A lot of it is good but some of the "advice" probably should be left at the table, especially if it doesn't align with your goals. There are so many moving parts in blogging, it can be extremely overwhelming. The to-do list is endless and it often feels like you're constantly dealing with shifting goalposts.
So if you're not keeping your why always in front of you, it's easy to get consumed by trends and give up too soon.
There are many reasons people start blogs – to educate, inspire, launch a business or simply make money. These are all well and good. No judgement here.
But I had to constantly remind myself why I started. What was (and is) my motivation? And it wasn't just about making money, although that is definitely on the table in the future. I really am passionate about helping people pursue their passions and maximising their present. I love interior styling and DIYing and want to share what I've learned with others.
Because I research a lot (maybe too much sometimes), I initially got distracted by too many shiny objects which led to constant uncertainty about what I should be focusing on.
So keeping my why constantly before me helps bring immense clarity about what information online applies to me and my journey.
So I encourage you, whatever your passion may be, don't ever forget your WHY… why you started in the first place.
#3  You learn to be your own cheerleader.
I tend to be really hard on myself (perfectionist anyone?) and in the past, I would constantly feel defeated if I didn't achieve something or made the same mistake when I knew better.
Well chile, let me tell you! Ain't no time for that in blogging! I can't throw myself a pity party and then hope the blog runs itself. I can't give up (which was my tendency in the past). I have to keep getting back to the drawing board and working at it. Figuring out where I'm going wrong, acknowledging what I don't know and seeking help where necessary.
The journey is largely a solo one.
When you're putting in the long hours and burning the midnight oil, very often there's no one to see the efforts but you… and maybe the pesky mosquitoes that occasionally harass me since I live in the tropics. lol
But no one will know that you took 3 hours to get that pop-up up and running on your site. Or 6 hours photographing a project for the blog.
As a result, I've learned to be waaay kinder to myself. I celebrate my big, small and super tiny wins.
I verbally congratulate myself and applaud (yes I do) after I've plugged away at something and it finally works. Or if I've worked at the goals I set for that particular day, even if there's no tangible proof of my efforts.
I definitely fear failure less…but still a work in progress.
I'm learning that it's absolutely OK for something to not work as you anticipated.
I'm learning to do it afraid. And congratulate myself along the way.
#4  You learn that overnight success is indeed a farce
There is no quick and easy way to this. Some things are super easy, like this DIY Tablet stand I made (see what I did there ;)). Blogging, however, is not.
This is in no way an overnight success game.
Most big scary goals are not.
It takes serious time and effort. And bruh, the learning curve is steep!  
No matter how many gimmicks and posts out there promise that you'd become a six-figure #bossbabe by spending 5 minutes to set up a blog and a month marketing it. Then, you'll magically be off to a beach sipping cocktails while your blog runs on autopilot. All a farce.
I'm a research junkie so I tend to research the life out of something before implementing and there was sooooo much information that made things appear easier than they are. So many Ultimate Guides to starting a money-making blog in 5 or 10 minutes.
I've also had a bad tendency to underestimate how long things take, how much practice and effort things require and running this blog in the way I wanted to, taught me that with a capital T. Well, I also learned that from taking guitar classes and thinking I'd become the next Lauryn Hill after 2 months… but that's another story.
Blogging is time-consuming and often overwhelming… No two ways about it. Especially with a full-time job. Sometimes I struggle to stay afloat and to remain there but bit by bit things have been falling into place.
It's so easy to look at other people's success and their journey and wish you were there. What we don't see are the hours, the tears, the frustrations and sacrifices they've endured to get there.
It's a constant reminder to stay in your lane. I often have to remind myself that it's not a race to the finish line.
That slow and steady wins the race.
That it's not actually a race at all.
We all have the power to pursue our big goals… but you have to start with the recognition that you must put in the work, do the time and make the sacrifices.
#5  You learn that planning and goal-setting are not optional
This one is for all the folks like me who've never really consistently used a planner before.
I suppose it felt like so much effort to sit down and plan every detail of your day.
But then I realised that's exactly why I had a growing feeling that life was passing me by. I was wasting too much time. And time that's not properly accounted for will be wasted. Trust me.
Since I'm employed full-time, I'm running this blog on the side. That means I really do have to be a better steward of my free time (aka the time I thought I didn't have to begin with).
How do successful serial entrepreneurs do so much in the same time we all have? By being laser-focused on their goals and planning like crazy. Then setting up systems to manage implementation.
This is the first year in ages where I've actually sat down and set goals for myself in most areas of my life.
I'm also trying out some productivity tools to aid with streamlining everything. I'll go into detail about that in a future post.
But it feels so good to have a clear picture of what I want and how to get there.  
#6  You learn that the world is full of beautiful souls
One of the things that had given me pause was the fear of the inevitable troll tearing down my efforts. It's so disturbing to see how easily someone can get behind their screens and type negativity about a complete stranger. But to live in fear of an occasional negative outcome would be to forego all the genuine, positive connections which are likely to far outweigh the bad.
There's such a sense of community in the blogging and entrepreneurship world, and I've already come across so many kind souls. It's been very refreshing in that sense.
Putting yourself out there opens the door to a global network of kindred spirits. You don't have to go it alone. And who knows, there's someone on the other side of the world who needs your story to help them through their journey.
So just to sum up, here are the 6 things I've learned from 6 months of blogging and why you should start your big scary thing today:
You learn and grow by actually doing
You learn to focus on your why
You learn to be your own cheerleader
Planning and goal-setting are not optional
Overnight success is a farce
The world is full of beautiful souls
Thank you for being a part of this journey!
What's your big, scary goal? What's that thing you've always desired but haven't started for whatever reason? Drop a comment and let me know! Let's support each other.
PIN ME!