With Thanksgiving around the corner (in the US) and Christmas not too long after, it's a great time to start thinking about what gifts you're giving this season, unless you're a super-organized person and already grabbed up your gifts in August. #nevermyreality
Today, I'm sharing some gorgeous hostess gift ideas from Amazon, most of which would actually make great gifts year-round for the women in your life.
Think birthdays, Mother's Day, house-warmings, weddings, showers … you get the picture.
Annnd I suspect you'll also want to snag some of these items for yourself (I already have! lol).
I've broken them into a few broad categories so there are hostess gift ideas for someone who loves to entertain, the chef, the home décor lover and some self-care pampering gifts for your lovely host to just relax after a busy night of dinner-partying (is that a word?).
Ok, let's get started…
23 Inexpensive Hostess Gifts on Amazon (that you'll probably want for yourself as well)
Quick Links to Information in this Post
*Disclosure: this post contains some affiliate links, which means that, at no additional cost to you, I may earn a small commission if you decide to purchase through a link. Read full disclosure here *
The Entertainer
Gold Flatware Set
This Gold flatware set instantly elevates any table setting. I've used mine for family dinners and get togethers and I love it. From the thousands of positive reviews on Amazon, lots of people think the same.
(It comes in rose gold and matt black too if you think your host would prefer that).
Marble Coasters
Marble Coasters are classic. Coasters are a must-have when entertaining and this 6-set marble coasters with brass inlays make a stylish statement.
Charcuterie Board
I absolutely love how a charcuterie board looks on a dinner table. This bamboo cheese/charcuterie board (pictured below) has a slide out drawer for the utensils, which makes storage super easy. This other one is also a popular gift set and is Amazon's choice for charcuterie boards
This trendy marble and teak serving board also adds a nice touch to a tablescape.
And since we're talking tablescapes, this extendable lazy susan for long tables would be a game-changer for dinner parties where everyone is seated around the table. No more lifting heavy dishes to pass around the table. Just rotate the turntable instead!
It kind of reminds me of those conveyor-belt restaurants, just on a smaller scale…don't you think?
Card Games
Fun, easy games are a must for get-togethers. This Taco Cat Goat Cheese Pizza Card Game is currently Amazon's Choice in card games.
I like the low profile yet luxe look of this rose gold Bluetooth speaker. Great for maximising sound in small spaces (it can fit in the palm of your hand).
The Chef
Gold Measuring Cups and Spoons
Like the flatware set, these measuring cups and spoons will look stunning in the kitchen! Pair them with the gold flatware set, some kitchen towels and a cute tray for a perfect house-warming gift as well.
If your hostess spends a lot of time in the kitchen, then she'll be happy to get these Natural Teak Cooking Utensils. Can never have too many of these, right?
This Cat spoon rest made me smile and would be great for the cat-loving hostess (or cat-lover in general) in your life.
This stainless steel French rolling pin is a lovely option for the baker. Maybe you'll even land yourself some delish croissants. #yum
Joanna Gaines' Magnolia Table cookbook is made for dinner parties and gatherings. This one is on my wishlist!
The Home Décor Lover
Coffee table books are never going to go out of style. Classics like the Chanel: Collections and Creations book help create a lovely decor moment in a home.
Homebody by Joanna Gaines. (yes another one of her books) Home decor advice + coffee table staple. Need I say more? lol
Soy Candles are really trending right now and a great scent complements your décor. This one by Lulu Candles got great reviews for being slow-burning with long-lasting scents.
If your host is a mid-century style lover, this blush planter (pot and stand) makes a gorgeoussss gift!
Or you can get this adjustable planter (without the pot) as a more budget-friendly option if you or your hostess already have suitable pots on hand.
And because she needs to relax at the end of all that hosting…
I have this essential oil diffuser and love it. Initially, I used it at night with lavender essential oil to help me sleep. But most times I use it during the day like when I'm doing chores in my room.
Even just looking at the mist as it diffuses is pretty relaxing. I have a growing collection of essential oils, so this is a great way to play with scents combinations while adding some style.
One tip I'd add is to use very little essential oil (like 1-2 drops) if you're using it in a small space like I am.
At first, I used too much and the mist was too strong!
If your host doesn't have any essential oils already on hand, this essential oils gift set has a nice range of options to get started.
Over the last couple of years, I've become a huge fan of audiobooks. An Audible gift membership is a lovely gift for someone who's big on reading but short on time or who just prefers to listen to a book while doing something… or nothing (like being stuck in traffic).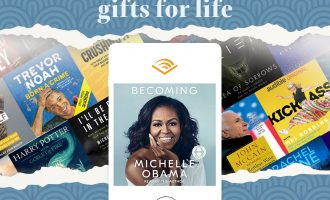 Cozy House Slippers? Ummm, yes please!!
I'm a huge tea drinker (well I'm actually trying to cut down a bit) and I find it really relaxing. This tea infuser cup makes a great gift for someone who's big on tea like me.
This tea gift box has a lovely selection of teas.
And that's a wrap!
Is there something you'd add to this list? Let's share some more hostess gift ideas in the comments section below.
Oh and if you're looking for some home organization gift ideas, check out this post > Home Organization Gift Ideas
Don't forget to pin for future reference.