Taking time to indulge yourself is all the rage right now. From staycations to pamper sessions, people are being encouraged now more than ever to just relax…and for good reason!
Self-care seems to be the new sexy topic and it means different things to different people. For me, and many others, there are obviously different elements to self-care that go beyond periodic pampering and instead explore how each person can maximise their potential.
In terms of pampering, however, there are so many easy DIYs – from foot soaks to sugar scrubs – which go a long way in helping us to relax and rejuvenate. This homemade Lavender and Peppermint foot soak does exactly that.
Over the last few years, I have increasingly appreciated the need to take time out to take care of this God-given vessel that works overtime. One of the ways I love to relax at home is to soak my feet in a very warm Epsom salts bath, infused with different types of essential oils.
For me, the quintessential introvert ;), there's nothing more relaxing than taking a soak, closing my eyes and letting my imagination free, while I take in the sounds of… well… pure silence. Yeah, baby!
One of my favourite foot soak combinations includes lavender and peppermint essential oils. The soothing and energizing benefits of these oils are all over the internet. Lavender oil, for example, can be used to treat various types of pains including those caused by sore and tense muscles. Peppermint oil is also well-known for its ability to relieve muscle pain and much more!
I didn't like the scent of lavender at first but it has definitely grown on me. I now use it occasionally on my pillow to help me sleep, since my brain seems to perk up and my thoughts do a flash mob every time I turn off the lights at night and try to sleep. Cute.
Anyway, when I started asking friends whether they use foot soaks, I was surprised to learn that not many of them did, and only really had treatments if and when they went to a spa. Ummm, what?!
Knowing the massive difference a good foot soak makes to tired feet and indeed body, I started gifting them to friends so they could not only enjoy at leisure but to help demonstrate how simple it is to DIY and feel like you're in a spa, at least for 30 mins.
I confess that sometimes I kind of freestyle regarding the measurements as I tend to not be much of a measuring-type of gal. The same thing goes for baking.
Maybe those are the only areas of my life I don't overthink it (#recoveringoverthinker) and just go with the flow since I know it'll work out anyway. Lol
So enough rambling… ready to get all tingly?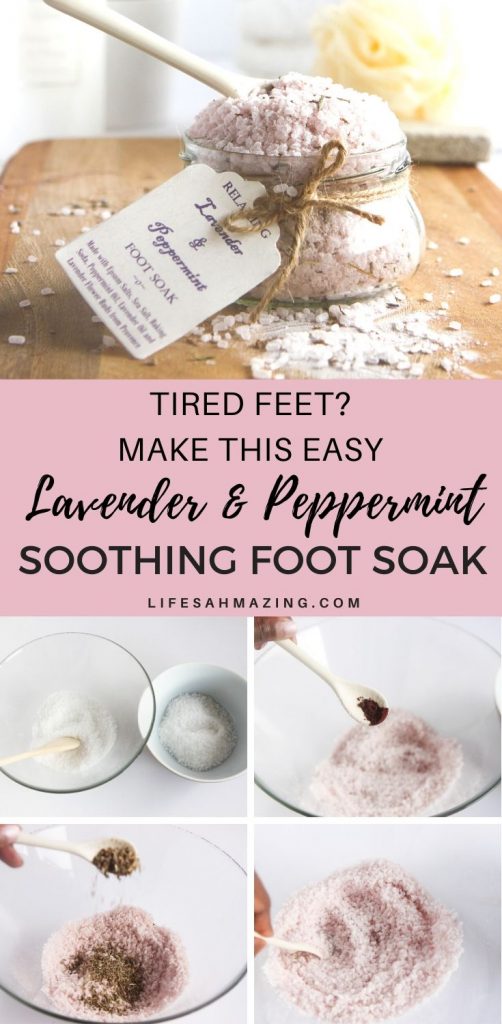 (This post contains some affiliate links. This means I may earn a small commission if you make a purchase using my links, at no additional cost to you! Read my disclosure policy for more info.)
Revitalizing Lavender and Peppermint Foot Soak
Quick Links to Information in this Post

Supplies and ingredients

Essential ingredients:
1 cup Epsom salts
1 cup Sea salt
1/2 cup Baking soda
10 drops Lavender essential oil*
5 drops Peppermint essential oil*
(*Some people find the scents overpowering. Feel free to use less if the scent is too strong for you!)

Optional ingredients:
1 drop Food colouring (optional…but why not "prettify" it, huh?)
3 tbsp Dried lavender buds
1 tsp dried Peppermint leaves or 1 tea bag
Other Supplies:
Glass bowl
Spoon
Airtight Glass jar

Instructions:

Combine the Epsom salts, sea salt and baking soda in a bowl or jar and stir to distribute evenly. Mix in the essential oils and stir to combine. Your soak is ready to use but I like to take up a notch.
At this point, I like to separate the mixture into 2 or 3 parts. I add food colouring to the different parts and then combine.
A LITTLE food colouring goes a long way so be careful and build the colour to your liking if at first it's too light. I would keep it kind of light if you're planning to gift it to a friend because they'll probably be concerned about getting red or blue feet if you go crazy with the colouring!
In the photo above, I added red colouring (powder) for a light pink hue to one part. Then, I added the lavender buds to one portion and peppermint leaves to the other.
So you can either have one even colour like this…
Or, if you want to layer it like the photo below, slant your jar and start with a spoonful of one colour. Next, top that with a spoonful of the other colour and continue until the jar is full.
The foot soak should ideally be stored in an airtight glass jar like this.
I've also used the plastic-lidded Ikea glass spice jars so those should also be fine.
Ready to soak your feet?

When you're ready to give your feet a treat, fill a container large enough to fit both feet in with hot water past your ankles. Add 3 tbsp of the foot soak mixture and stir to dissolve.
Place feet in the water and allow to soak for at least 10 minutes and up to 30 minutes.
Close your eyes and relax, breathe, listen to music or read a book/magazine.
When you're done, pat feet dry with a clean towel and moisturize with a rich foot cream.
Be prepared to say "you're welcome" because your feet WILL be thanking you!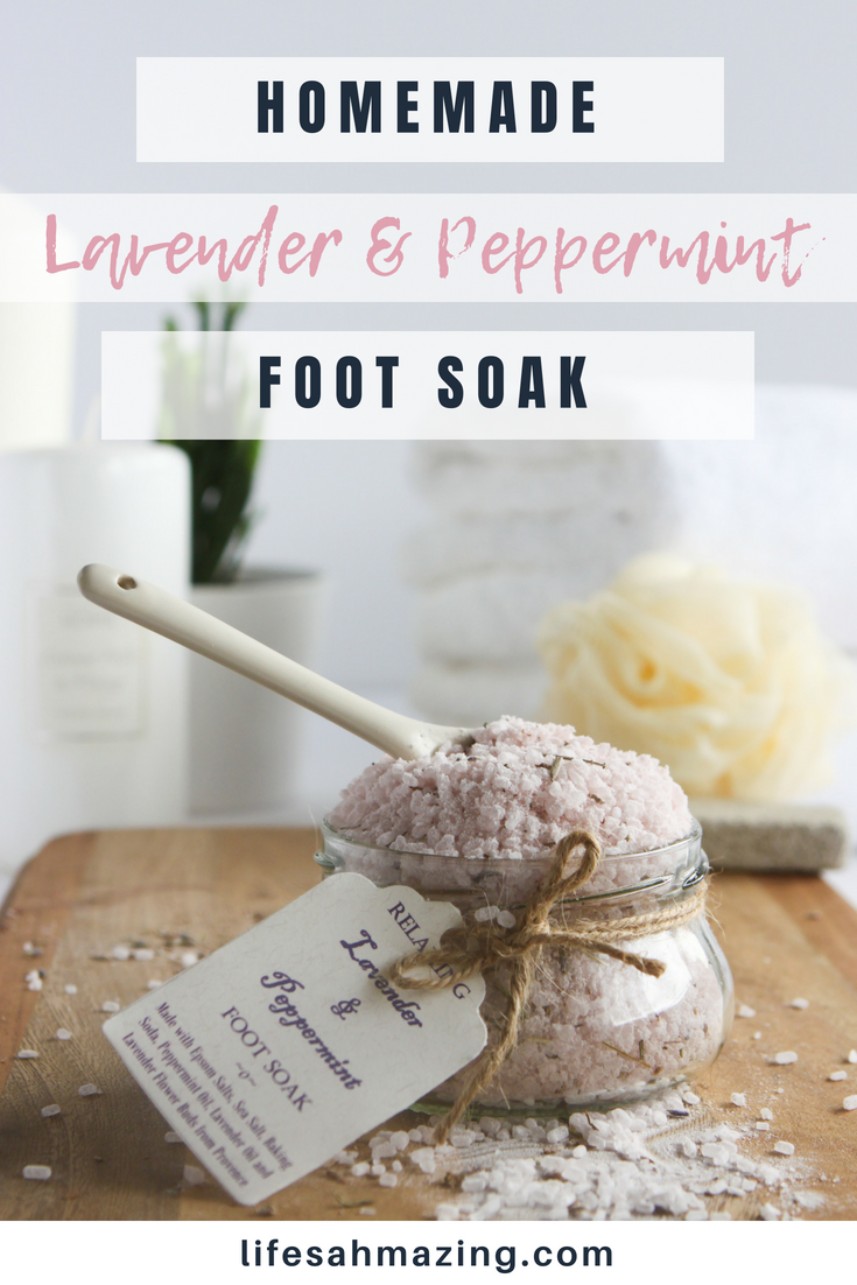 Let me know if you try it.
So, what are your favourite ways to relax at home? Have you tried other essential oil combinations? Let me know in the comments. I'd love to hear your ideas.