A few years ago, I started switching out store-bought moisturizers and making my own body butter at home. I have dry skin and sitting in an air-conditioned office all day did nothing to help.
I also wanted to start using more natural products and kept seeing the benefits of coconut oil and shea butter appearing everywhere.
Enter my homemade, whipped, lavender body butter made with shea butter and coconut oil.
There was something about the over-36-skating-forward-40 age bracket that made me want to improve my skincare routine and simultaneously simplify my life by using more multi-purpose products around the home.
It's also far cheaper in the short and long term. So, it's a win all around.
When I saw how simple it was to make the body butter and how much my skin loved it, I was hooked.
I ran out of my last batch a few weeks ago and reverted to some of the store-bought creams and moisturizers I had remaining at home. It was not the same and I knew it was time to whip up another batch asap.
(Disclosure: this post contains some affiliate links. This means I may earn a small commission if you make a purchase using my links, at no additional cost to you! Read my disclosure policy for more info.)

Homemade Lavender Body Butter with Shea Butter and Coconut Oil

I love how flexible these butters can be. I adapted a couple of recipes I found online which I've linked at the end.
I don't like to use olive oil in my recipes because I find the scent too strong. So my top moisturizing elements are shea butter, cocoa butter and coconut oil.
Here's the recipe:
Ingredients:
½ cup coconut oil
½ cup shea butter* (see note below)
½ cup cocoa butter
1 tsp vitamin E oil
½ tsp lavender essential oil* (or about 15 drops)
Other materials:
8-ounce amber glass jars or clear plastic jars
FREE printable Lavender Body Butter labels (direct download)
Notes:

In this recipe, I used 2 types of shea butter. The yellow one naturally has a softer, more buttery consistency. The white/grey one is quite firm. I have made the butters before using only one type and noticed slight variations in the overall consistency. So I'm trying both this time.
Also, if you plan to add some colouring, it may be better to use the white/grey so that the colour shows up more.
With regard to the essential oil, you can obviously swap out the lavender essential oil to one of your liking.

Steps:

In a glass measuring cup or stainless steel bowl, add your shea butter, cocoa butter, coconut oil and vitamin E oil.
Place in a double boiler (a saucepan with some water which your measuring cup or bowl will sit in).
It's important to not place the oil over direct heat and to also allow it to melt slowly. It should only take a few minutes. Stir to make sure all the oils are combined.
Once melted, remove from heat and leave to cool at room temperature for about 10 minutes. You can add your essential oil/s at this stage and stir to combine. (It was a pretty warm day when I made this so I placed it in the freezer for about a minute to cool faster, added the essential oil and then I whipped it briefly).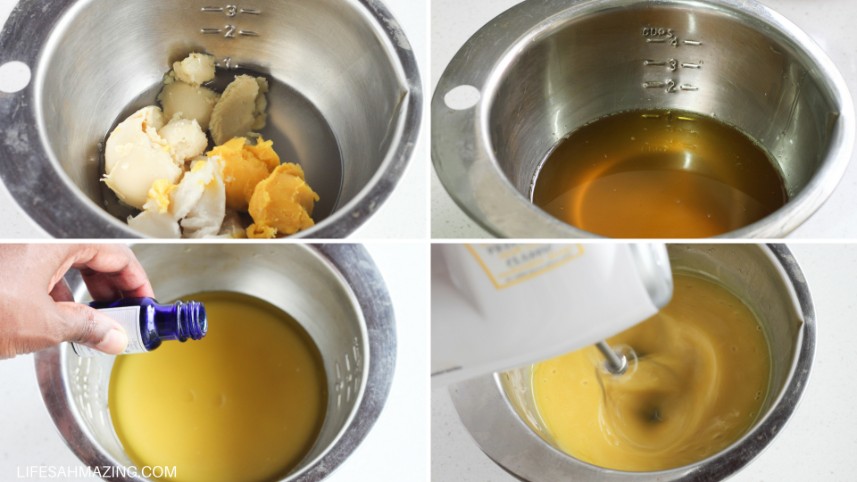 Place the container in the freezer for another 10 minutes for the butter to firm up more.
After about 10 minutes, the outer edges should appear lighter in colour and the mixture slightly soft at the centre.
Remove from freezer and whip for 3-5 minutes. You may need to pause and scrape down the edges. Or just angle the mixer and bowl to ensure you get the sides properly mixed in.
If your mixture seems too soft, return to the freezer for a few minutes and whip again. It's also a good idea to place your whisks in the freezer as well! I forgot to do that this time.
It should look exactly like whipped butter or pudding when you're done (my mom actually asked if I was making custard! Lol).
In liquid form, it's about 1 cup and after it's whipped, it increases to about 1 and a half cups. That's a lotta butta. The mixture lasts me about 2 months. A little goes a long way.
Store in a glass jar or air-tight container. I personally store mine in old moisturizer containers.
Want to make a cute DIY gift? Click here to download some pretty labels and grab a few of these glass jars or these clear plastic jars, both from Amazon.
And pair it with this super-relaxing DIY Lavender and Peppermint Foot soak!
How does the whipped body butter hold up over time?

Like normal butter, the body butter is very susceptible to temperature changes. I live in the tropics (Caribbean) and as a result, the butter melts and can lose its fluffy consistency fairly quickly.
So with this recipe, it will lose the fluffy, whipped consistency in warmer weather. The picture below shows the various forms it takes based on the temperature…
This is also something to keep in mind if you're planning to gift someone with it.
I personally don't mind either form because it's still super easy to apply and moisturizes my skin the same way. I keep the other containers in the fridge until I am ready to use them.
At work, I keep a jar at my desk and it remains firm because of the air conditioning.
This recipe is an adaptation of ones from Lia Griffith and One Good Thing by Jillee.
And that's it.
Have you tried a homemade body butter before? Let me know if you try out this recipe.
As always, feel free to pin for future reference.