Mother's Day is this weekend in some parts of the world and I just wanted to share a few inexpensive and easy DIY gift ideas for mom that you can make at home if you haven't already purchased a gift.
I know this weekend may be incredibly difficult for some, so if you're one of those persons, my thoughts and prayers are with you.
If you know a special lady in your life who could use a pick me up this weekend in particular, try gifting them with one of these just to let them know you're thinking about them. I particularly love the 3rd idea so read on.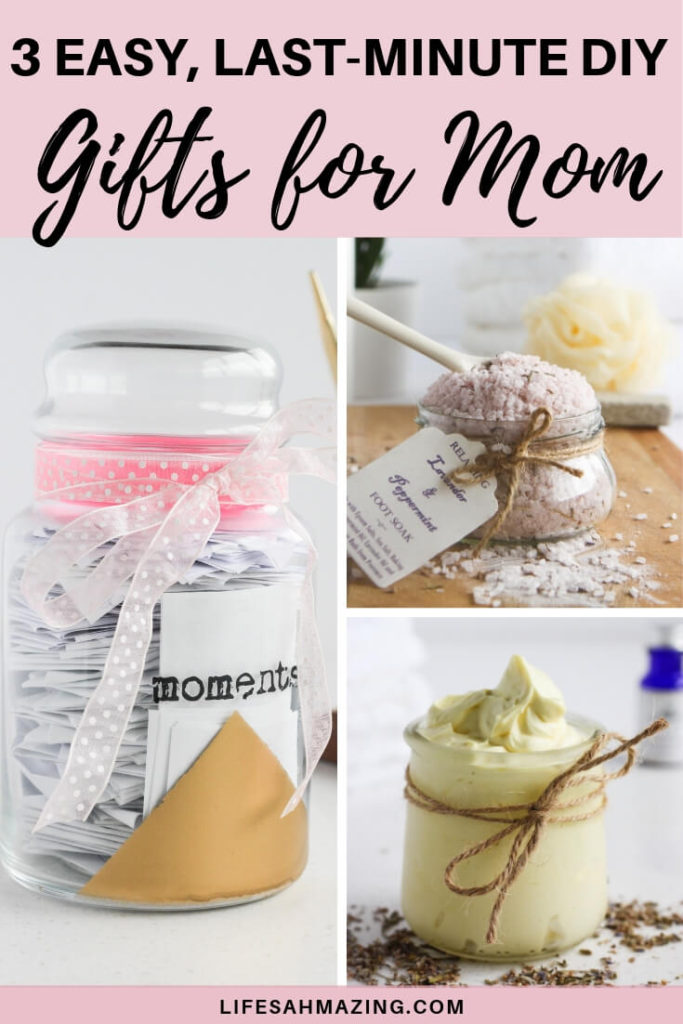 Gift Idea for Mom #1 – Lavender and Peppermint Foot Soak
Quick Links to Information in this Post

First up, why not gift her with a homemade foot soak. Our feet work so dang hard and are often neglected. I made this super easy Lavender and Peppermint Foot Soak that uses ingredients you probably already have in your pantry. It literally can be made in 10 mins or less. Also, if lavender and peppermint aren't your favs, swap them out for essential oils of your choice. See the full instructions in this post. Don't forget to grab the labels as well.
Gift Idea for Mom #2 – Whipped Lavender Body Butter

Lavender features in this decadent body butter as well. Try this homemade butter made with all natural ingredients that do wonders for your skin. With the soothing and skin rejuvenating properties of the lavender, shea butter and coconut oil, I bet your mom won't want any store bought creams after this. One time I made this, my mom actually asked if I was making custard – it looked so yummy when whipped. But DON'T eat it, okay? lol
Check out the steps here. Also, be sure to sign up below to download the body butter labels.
Gift Idea for Mom #3 – DIY Gratitude Jar

When was the last time you told your mom how much she means to you? And when last have you made an actual list of the things she's done, or the moments you've shared that really impacted you?
Take your mom on a trip down memory lane by writing out specific things you're grateful to her for. You can also add memories of events, big or small, that would make her smile.
Too often, we take things and people for granted and don't let them know – on an intimate level – how much they mean to us. I'm sooo guilty of that! I created a gratitude jar for that very reason as I wanted to actively practice gratitude every day.
Grab a mason jar or any lidded container you like and start writing different memories on small sheets of paper. Leave the outside plain or decorate it however you like. You can check out how I made mine here for inspo.
What do you think about these gift ideas for mom? You can also easily bundle the foot soak and body butter to create a homemade spa combo. She's gonna love it!
Pin it